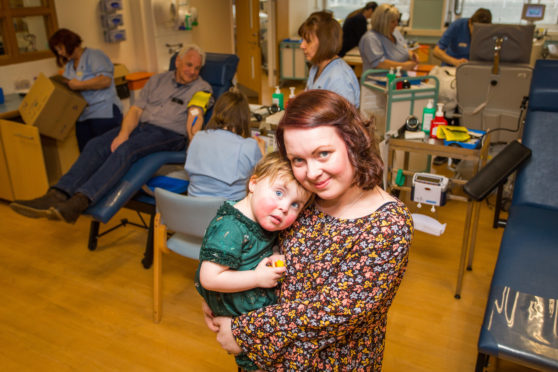 Thousands fewer people are giving blood across Scotland as advances in transfusion practices sees demand fall.
Information released by the Scottish National Blood Transfusion Service (SNBTS) shows that across the country, a total of 39,240 fewer people donated in 2017 compared to 2012 — a fall of 26%.
Across Tayside and Fife, 6,400 fewer donated with Perth seeing a drop of 25%, Angus 40%, Dundee 32%, and Fife 28%.
SNBTS, which ensures the NHS has enough blood to meet the transfusion needs of patients said that the drop, rather than being a problem, reflects an overall reduction in demand over the past six years.
It said this is due to improvements in surgery and transfusion practices, better clinical practices to use as little blood as possible, and improved supply chain management.
It also stated as the number of donors has fallen, the average amount given by each donor has increased.
Gemma Edwards from Broughty Ferry, whose two-year-old daughter's life has been saved nine times by blood transfusions, spoke of the importance of donating at an SNBTS awards ceremony for donors held in Dundee this week.
The 36-year-old, who now lives in Inverness, said: "To my husband Craig and I, it's a really emotional subject.
"Our daughter Skye would not have made it if it wasn't for blood donations. She was born unwell and even now nobody can explain why.
"She needed seven platelet donations and two blood transfusions. She's completely healthy now but it was such a scary time. We could have been childless.
"One of the people recognised at the ceremony has given blood 450 times. It's absolutely crazy to think how many lives that has saved.
"Giving blood is time well spent and it can make all the difference to families like ours."
Moira Carter, associate director of Donor Services for the SNBTS, stressed, despite a drop in demand, new donors are always required.
She said people should try to be "blood group aware" and give when stocks of their blood-type are low.
She said: "Working together, every part of the NHS in Scotland has achieved a 20% reduction in the need for blood for transfusions over the last six years.
"This has been a combination of better clinical practices to use as little blood as possible during operations, continued improvements in transfusion practice and improved supply chain management.
"On average our donors are giving more each year, and we hugely appreciate this. What we are asking of all donors is that they be 'blood group aware' and give blood when their type is needed most."
Blood stocks are updated daily on www.scotblood.co.uk with potential donors urged to check the stock level of their blood group before going to give.