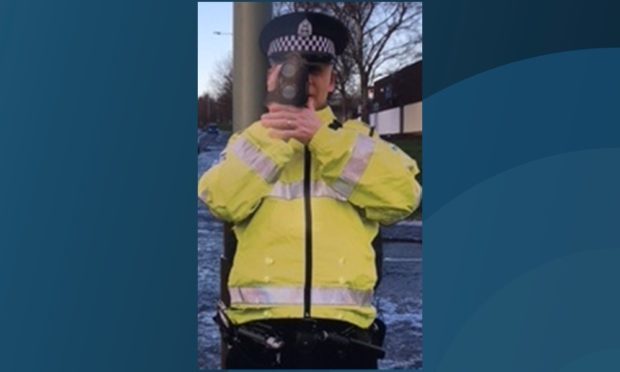 Police are probing the theft of a policeman.
It comes after a brazen vandal unchained one of Dundee's 'pop-up Jims' — a cardboard cut-out of a police officer holding a speed gun.
The prop is used to deter speeding motorists at high-risk areas in the city.
Officers are appealing for information after 'Jim' was vandalised in Johnstone Avenue, near Kingspark School for disabled children, on Thursday.
The cut-out was put out on the street at around 7.45am and by 11.30am vandals had cut the chains used to hold 'Jim' in place.
Sergeant Lesley Mann said: "It is disappointing that a member of the public has carried out this act of vandalism and no doubt found it funny, but it is has been very short-sighted.
"Kirkton Community Safety Partnership and Coldside Community Forum secured the funding for 'pop-up Jims' to assist in combating speeding drivers on the roads in Dundee."
Councillor Mark Flynn added: "I am very disappointed to hear about this act of vandalism.
"It should be highlighted that the 'pop-up Jims' were purchased by the community , in order to help alleviate speeding on the roads/streets within the Coldside Ward, thereby keeping our streets safe for everyone.
"The area where this pop-up Jim was sited was near to a busy school which will shortly see the implementation of an experimental 20mph zone."
Anyone with any information relating to the vandalism, is asked to contact Police Scotland on 101 quoting reference number 1125 of  February 8.