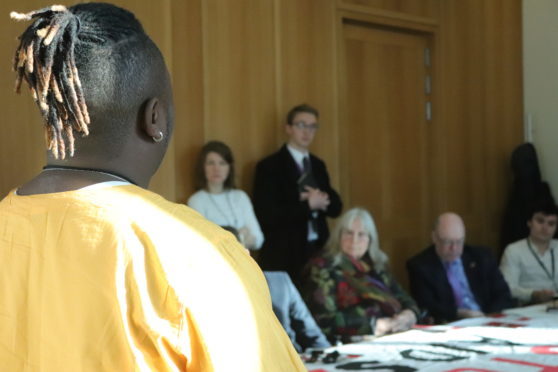 Campaigners have claimed another world HIV epidemic is on the horizon unless vital funding can be secured, as a nationwide awareness tour arrives in Dundee.
The Youth Stop AIDS UK tour will arrive at Dundee University on Tuesday night with organisers hoping to raise awareness of what they describe as a huge funding gap both in the UK and worldwide.
Campaigners say a UN target to end AIDS by 2030 is within reach but is only possible if those in power end complacency with funding into tackling the disease at its lowest level in the UK since 2010.
The organisation launched the It Ain't Over campaign last year, calling on the UK government to increase its financial, programmatic and political commitments to the global HIV response.
Youth Stop AIDS national coordinator James Cole says the issue has fallen off the radar in recent years with worldwide AIDS deaths having tripled since 2000.
It is also the number one cause of death among adolescents aged 10 to 19 in Africa and the second leading cause of death among adolescents globally.
Mr Cole said: "We hope that this tour can put AIDS back on the agenda.
"We have been touring for the past 11 years now but in many ways this year's tour is our most important yet.
"2017 was a pivotal year because funding in the UK dropped to its lowest level since 2010.
"We believe that if we don't address funding issues then all of the progress over the past 30 years will be lost and it could result in the start of another epidemic.
"The increase in funding needs to be replicated across the world however so that we are able to achieve our goal to end AIDS by 2030."
Speaking at the event will be a number of inspirational young people living with HIV, including 24-year-old Kenyan, Kennedy Mwendwa, and 33-year-old Glaswegian Michael Nugent.
Kennedy, who contracted HIV after being forced to become a sex worker at the age of 16, says treatment and awareness are the key issues.
He said: "I was thrown out of my house for being gay.
"I engaged in sex to have a place to sleep – this is when I came face-to-face with HIV.
"Young people need to speak up so that we can live in a HIV/AIDS free society — I will not stay quiet on this issue.
"In terms of treatment there has been tremendous work but there is not enough of it available.
"Often young people are not treated well, especially in my country, when they seek help.
"There is a real danger we will see a bounce back with the epidemic if we don't act now."
Michael recently featured on a BBC documentary called The Truth About HIV, in which he discovered he was now undetectable — meaning he can't pass the virus on, even if engaging in unprotected sex.
He added: "If we know the rates of people who are infected then we can ensure they are treated and prevent them from passing it on.
"It definitely feels like there is a lackadaisical attitude now to HIV and AIDS where those in power think it's OK to pull back from support and reduce funding.
"But this is the time where we have an opportunity to achieve our aim of beating AIDS for good and if we don't get funding then we are going to end up with a bit of a backlash."
The event will take place at Dundee University's Dalhousie Building from 5.30pm to 7.30pm. Free tickets are available through Eventbrite.