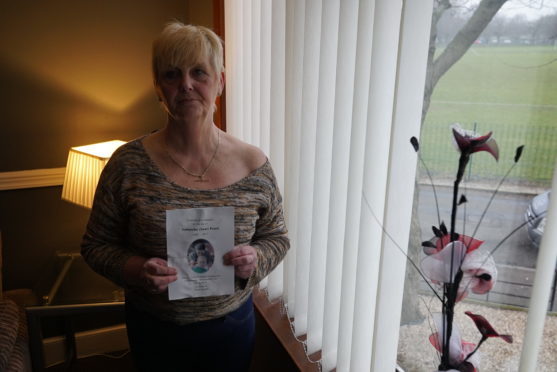 Fears have been raised Dundee could be in line for its worst year ever for drugs deaths after 12 suspected cases were recorded in the city last month alone.
The figure, which compares with the 38 recorded in the whole of 2016, was highlighted in a Channel 4 News special report on Monday night which saw the mothers of two Dundee women speak for the first time about coping with their loss.
The programme described Dundee as Scotland's "drugs capital", and noted that the city has the highest drug death rate in the whole of Scotland according to the most recent data collected by the National Records of Scotland.
Liz Johnston's daughter Samantha Fearn fell victim to a life of drugs misuse and died from a lethal combination of drugs in November last year. She was just 36.
In Monday's programme, Mrs Johnston said that Samantha's seven-year-old daughter Ellie was now her priority, adding that she had to break the news her mum has passed away.
"Mummy's dead," she said.
"You never want to hear that scream again I tell you. It was horrific. It just broke her heart. And it's never been the same since to be honest. It's never been the same since.
"I tell Ellie how her mum was good and that she loved her. Ellie knows what her mum died of. She knew she was on drugs. Everybody thinks you can go back to normal.
"What they need to understand is a seven-year-old child has to deal with her mum on drugs, her mum dying, her mum's funeral.
"She's got to put all of this in her brain. I can't do it, so how can she? I'm hoping she goes the right way.
"That's all I can do because Ellie doesn't have anybody else. I can only hope she has a better life than her mother did."
Mrs Johnston also told of her hatred towards the drug dealers.
She said: "If I could find the person who gave her that I don't know what I'd be capable of. I don't like drug dealers. I hate them with a passion. They just dole out misery. They don't care that they're killing people, that doesn't matter to them.
"They're not interested that children are involved. All they're interested in is the money.
"Samantha died for maybe £10. And that's what her life is worth £10 to a dealer."
Across the city, another grandmother Kate Brady also lost her daughter to drugs and is raising her three grandchildren as her own.
Susan Kennedy passed away on January 17 at just 39-years-old.
Revealing her daughter started taking drugs aged just 15, Mrs Brady told Channel 4 News: "There was no help at all. Nothing.
"There was no escape. There was nothing you could do to stop it. Not a thing. She just kept doing it and doing it."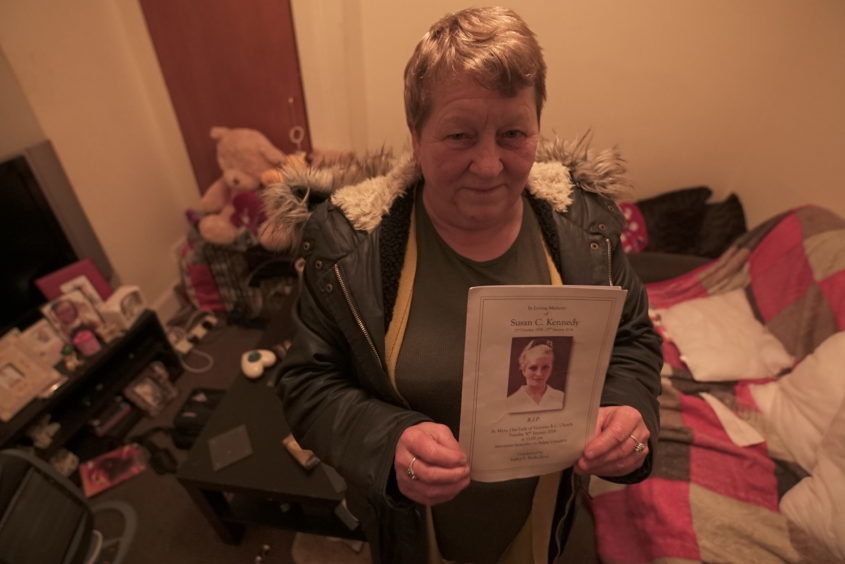 She also described the moment she found out Susan had been "put on the game" by her dealer.
"That person would deny it," she said.
"People were telling me she was on the game. What could I do? I couldn't stop her. They took advantage of her and I was disgusted."
Mrs Brady also told Channel 4 News about other grandmothers in Dundee who are having to raise their grandchildren.
"It's sad for the grans but sad for the kids as well," she said.
"They see other kids with mums and dads and that and they think no. They're basically stuck with their grannies, which is a shame.
"You can't be the gran you want to be because you're bringing up these kids. But you never replace their mum, they always knew Susan was there."
Like Mrs Johnston, Mrs Brady is angry with the dealers and believes the problem will get "worse and worse".
"They're a disgrace, they're horrible people," she said.
"Do they ever pay for what's happened? I don't think so. They've still got their big houses and that. The kids that they're dealing to, they don't care what they do."