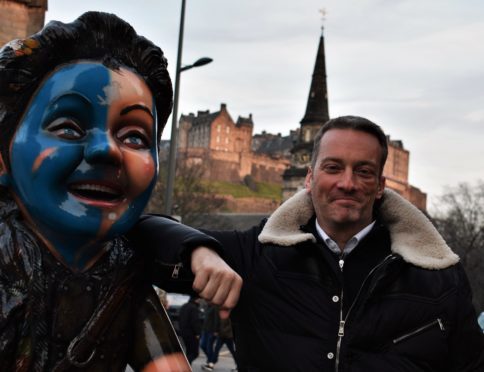 A Dundee restaurant that donated its profit to charity has a new owner who says it may no longer give money to good causes.
Edinburgh-based Signature Pub Group has bought all of Scotland's Boozy Cow restaurants  from the Speratus Group.
Signature is run by Nic Wood, brother of Speratus owner Garreth Wood.
As well as The Boozy Cows in Edinburgh, Dundee, Stirling and Aberdeen, Signature has also acquired The Auld Hundred in Edinburgh and Nox and Paramount in Aberdeen.
The Boozy Cow chain was founded in 2015 and raised more than £500,000 for charity in its first two years.
Following the opening of the Dundee branch last year, Garreth Wood said he hoped to expand into the north or England and to be donated £1 million a year to charity by 2020.
Founded in 2003 , Signature Pub Group has a portfolio of 14 pubs, hotels and restaurants across Scotland.
The business has grown rapidly over the past three years and sales for the accounting year to Oct 31 2017 were close to £18 million.
Nic Wood said: "This is an exciting deal for both parties and the acquisition has been a very natural progression.
"The Speratus Group consists of great units, in great locations and offer an opportunity to further enhance efficiencies whilst minimising operational changes as the businesses are already so closely aligned.
"We are now an independent pub company of 21 sites across Scotland. Signature will continue to deliver exceptional customer experiences in hospitality, an industry we know and love, and to drive for success with focus and determination as a new team."
The purchase price is, and will remain commercially confidential between both parties.
A spokesman for Signature added it is too soon to "commit" to  the philanthropic ethos at the heart of Boozy Cow.
He said: "Signature is a business designed to generate profit to allow us to reinvest in our iconic venues and support the Scottish economy by being an employer of over 600 people.
"As with any new acquisition, we will take time to understand Boozy Cow, the business, it's market, cost base and potential profit before committing to a charitable programme.
"By way of a final payment, Garreth Wood has committed a further £200,000 to the associated charities that Speratus has supported over the years through its philanthropy.
"Garreth is currently working on new philanthropic projects and an announcement on his future plans will be made in due course."