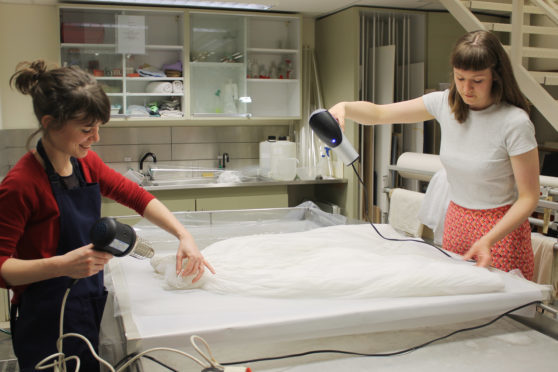 An ancient christening robe believed to be almost 180 years old is set to be showcased at Dundee's new V&A museum.
The Ayrshire garment, thought to have been made in the 1840s, has been in storage for more than half a century but will now form part of the museum's Scottish Design Galleries when it opens in September.
It was made using delicate muslin textile and has recently undergone extensive and careful cleaning by experts ahead of its display.
It features an intricate hand-embroidered design of trailing stems bearing flowers and leaves and was specially chosen by curators.
Ayrshire needlework, which saw embroiderers stitch unique designs on a microscopic scale, flourished during the first half of the 19th century.
Elizabeth-Anne Haldane, senior textile conservator at the V&A, said the dress had to be treated with extreme care while being cleaned.
She said: "The robe was in very good structural condition but over the years had become yellowed, as the cotton aged.
"It was really improved by being washed and the fine white cotton now looks as clean, fresh and crease-free as it would originally have been intended to be for a baby's christening.
"We are currently preparing a number of wonderful textiles so they are ready to be transported to Dundee and displayed in the Scottish Design Galleries."
The craft industry was powered by a female workforce who were employed by merchants and worked from their homes. Agents would deliver fabric and pick it up again when the needlework was complete.
Christening robes were often preserved as family heirlooms. Other popular items, which were sold in places like France, America and London, included bonnets and day dresses for babies.
Linda Fairlie and Bruce Morgan, Museums Officers at East Ayrshire Leisure, travelled to London to help choose which gown from the V&A collections should go on display in Dundee.
Ms Fairlie said: "We went through all of the robes in the V&A collections. We chose the three that best represented Ayrshire needlework and then came back for a second visit because it was quite tricky to decide between them.
"The thing that's most distinctive about Ayrshire needlework is that the designs all derive from nature, and we chose the robe with the most aspects of this.
"There are very few gowns that can be tied back to the maker and we don't know who would have made this christening robe. People would often work on a particular section of a garment, like the bodice, sleeves or wings, so it's quite possible this robe was made by several different women."
The free to enter Scottish Design Galleries will feature around 300 beautiful and innovative objects from the V&A's collections and other lenders.
It will represent a wide range of design disciplines from the decorative arts – including furniture, textiles, metalwork and ceramics – to fashion, architecture, engineering and digital design.