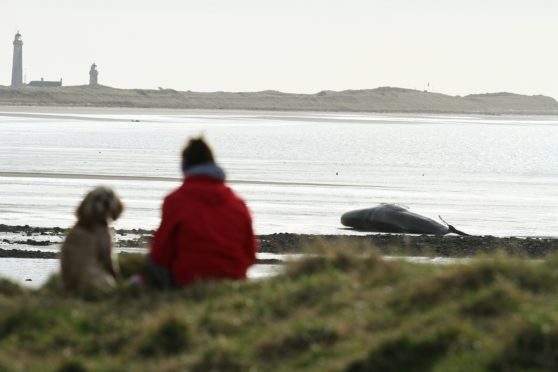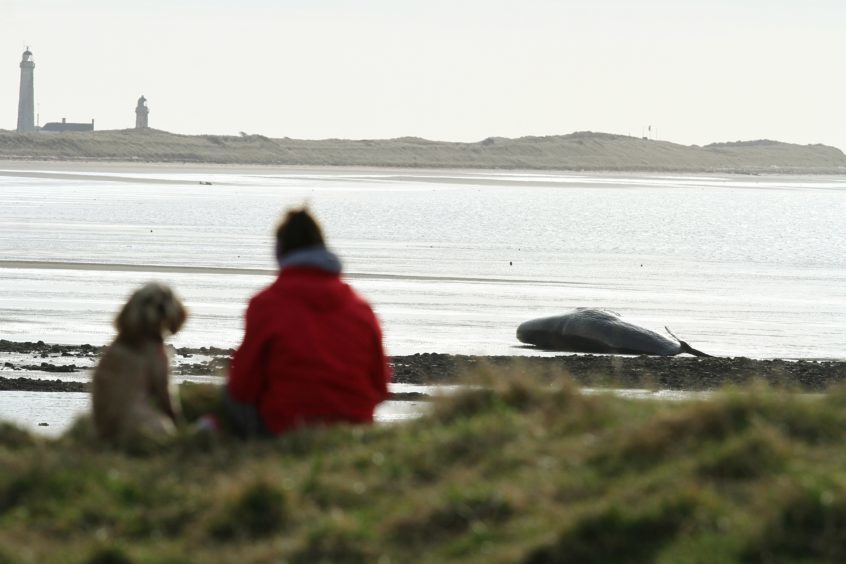 A post-mortem examination is due to be carried out today on a dead whale that washed up on the beach between Monifieth and Barry.
The sperm whale was declared dead on Wednesday evening after rescuers tried in vain to save it.
Efforts to dispose of it were hampered on Thursday as the whale is lying on the shore near the Barry Buddon firing range, which is inaccessible to the public when training is taking place.
The Scottish Marine Animal Stranding Scheme (SMASS) was given approval to go the scene by Angus Council and will carry out the post-mortem on Friday morning.
The vet who will be carrying out the autopsy warned there was a danger the remains could explode.
An incision will be made to release gasses from the animal's body and reduce the risk. If successful, it will be buried on site.
Dr Andrew Brownlow, head of SMASS, said: "Angus Council have agreed to allow us to carry out the procedure, which is really good.
"Sperm whales are really difficult animals to dispose of because of their size so we will bury it there after the autopsy.
"We hope to find out how it died and how it came to be beached where it was. We should also be able to find out about the health of the water it lived in.
"These are amazingly charismatic species. It is quite a sad thing when an animal is dead on the beach, but we can learn from them which makes the autopsy worthwhile.
"If a whale had been washed up 50 years ago it would have been a valuable asset because of its oils and the meat would be used for animal feed, but now a whale carcass is a liability that nobody seems to want to deal with."
Coastguard teams from Abroath and Carnoustie, were called to the scene on Wednesday, along with the RNLI's inshore lifeboat and crew from Broughty Ferry, after the 12-metre animal was spotted by a dog walker at around 3pm.
Teams remained on scene after dark to secure the site and warn people not to go near.
Paul Smith, British Divers Marine Life Rescue (BDMLR) co-ordinator, said whales could often be seen off the east coast but it was unusual for a sperm whale of that size to appear in the Tay.
He said: "There are a lot of whales traversing all these waters and these migration route but it is uncommon to get big whales visiting the Tay like this — they'll pass by certainly but it's not very often they come in.
"The problem with sperm whales is that it's the wrong species in the wrong area. They don't do well on the east coast."
An Angus Council spokesman said: "We have been in contact with the relevant agencies today, including the marine pathologist, and a post mortem has been arranged, along with procedures for the safe disposal of the carcass thereafter."