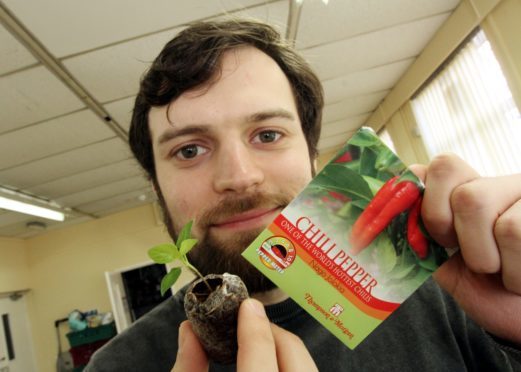 A Dundee man is preparing to unleash the ultimate spice test after planting one of the world's hottest chilli peppers.
Isa Mallick is currently growing the infamous Ghost Pepper which, up until 2011, was officially the world's hottest chilli pepper.
Otherwise known as the Bhut jolokia, it is over 1000 times hotter than the average cooking sauce and 400 times hotter than commonly-feared condiment Tabasco.
It is so hot in fact, in 2010, India's military developed a 'chilli grenade' using its seeds in a bid to flush out terrorists.
With eight having been planted at the start of February, they will not be at their most powerful until September due to the long growing season required.
Isa decided to grow the ingredient after Yusuf Youth Initiative (YYI), a community outreach programme he works for, secured a large allotment thanks to funding from environmental charity Keep Scotland Beautiful.
The allotment is being used to grow vegetables for supplies for the initiative's Taught By Muhammad foodbank.
29-year-old Isa said: "One idea is to have an eating competition just for a bit of fun.
"We could make it so the person who can go the longest without taking a drink wins.
"It would be a while away yet but it would be pretty interesting to watch for sure. It's quite extreme.
"I may need to get the safety aspect checked out to he honest. I don't want to harm anyone!"
Isa added the plants need to be carefully nurtured using heat lamps and polytunnels to replicate the conditions in northern India.
In 2007, the Guinness World Book of Records officially crowned Ghost Pepper the world's hottest chilli pepper, although it has since been superseded by various others and is now ranked at number 7.
The world's hottest is now the Carolina Reaper, which incredibly packs twice as much heat.
At its hottest, the Ghost Pepper can reach up to one million Scoville heat units, the measurement used to test pungency.
To compare, a jalapeño pepper, considered by some spice-sensitive souls as a bridge too far, is just 5000.
Isa added: "Most people I've spoken to seem interested but then I explain how hot it is and they say they'll maybe give it a miss!
"Though people are worried about trying it I think a lot of people will give it a go in the end.
"Certain things like this you can't buy in a shop here.
"It's a once in a lifetime opportunity for many people really.
"Ultimately though, it will be great to make use of them so we can make sauces for our community lunches.
"That's the real use for them and everything else we are growing."