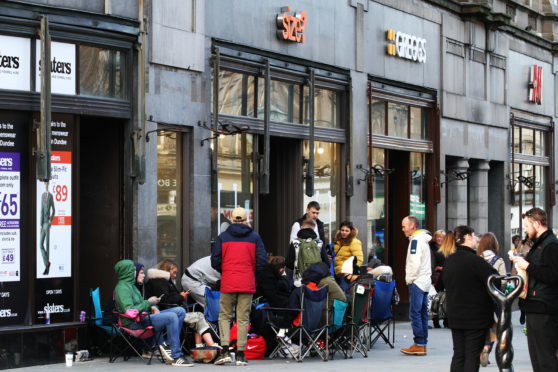 Queues have already started forming outside a Dundee shop ahead of the release of a limited edition pair of trainers.
A group of around 20 people are outside Size? on High Street to bag themselves a pair of Nike's Sean Wotherspoon 97 – for the eye-watering price of £125.
The shoes are released tomorrow morning and demand already seems to be outstripping supply as the store has 17 pairs to sell.
Among the most dedicated trainer aficionados is 18-year-old Connor Curren, who has been outside the store since Wednesday afternoon.
He said he instantly liked the style of the new pair. A dedicated collector with more than 40 in his collection, Connor was also at Size? last week for the release of Nike Air Atoms 'Animal Pack'. He plans to be at the shop next week when the limited edition Nike Silver Bullets get released.
"Some people don't understand it, but you see people waiting overnight for other things," he said. "As soon as I saw them I really wanted them.
"I'll get here early next week for the Silver Bullets too, but maybe not three days early."
Connor was inspired to arrive so early after seeing news reports of people waiting outside stores in France.
Staff at the store have allowed some of the crowd to sleep in the doorway for shelter after they close for the night.
Store manager Stuart Ormond said: "It's a good thing for us as it creates more footfall and the guys are all really nice and there's a good spirit out there."
Size? will open its doors at 8am tomorrow morning, and Stuart expects the 17 pairs to be gone "within half an hour".