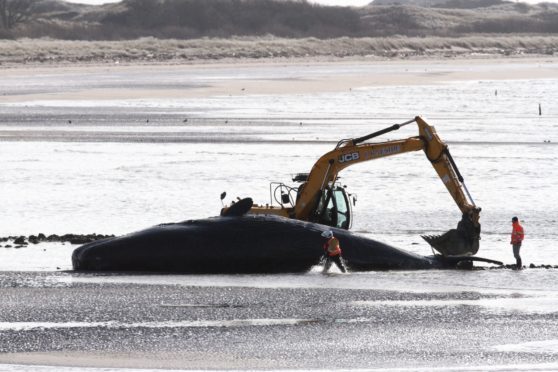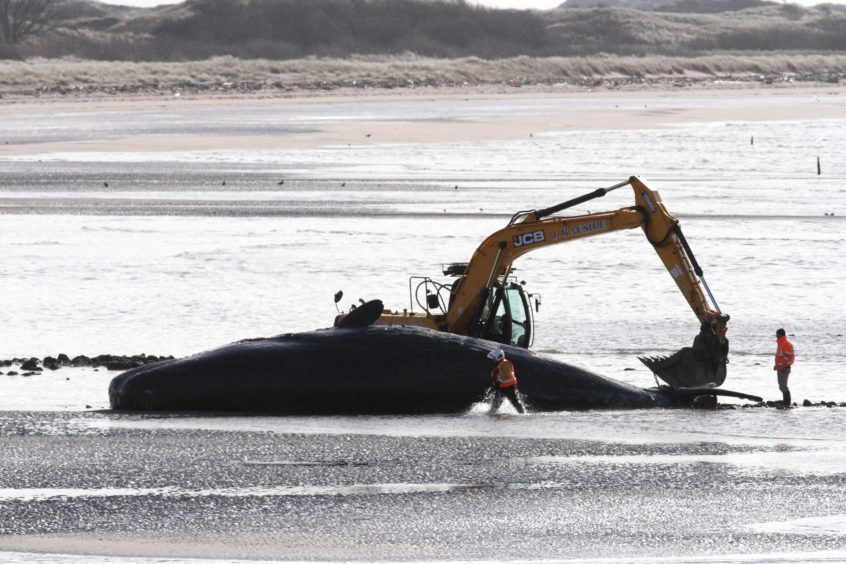 An autopsy carried out on a 45-foot sperm whale beached in Tayside could be a world-first, a researcher involved in the effort has claimed.
The infant whale, which was found dead on Barry Buddon beach near Monifieth on Thursday night, was examined by experts on Friday and Saturday before being buried under a large mound of sand.
Due to the incredible skill of digger operators from Cupar-based FTM Plant Hire, a brain sample was taken from the huge mammal before it reached decomposition.
According to Dr Andrew Brownlow, head of the Scottish Marine Animal Stranding Scheme, this may never have been done before following the death of a beached whale and may lead to greater understanding of the fascinating creatures.
VIDEO: How did 45ft sperm whale which washed up near Monifieth die?
He said: "I have been doing this for 10 years and have never seen this.
"It's more than likely it has not been done before this quickly anywhere in the world.
"It may have an impact on future research worldwide. It's so very rare to manage to do this.
"The digger operator, Martin Smith, used the shovel of the digger with the precision of a scalpel to crack open its skull in the exact location we needed."
VIDEO: Watch as complex operation to probe death of and bury Tay sperm whale gets under way
Dr Brownlow was joined by a number of students from the St Andrews Sea Mammal Research Unit and fellow marine rescuer volunteers.
It is hoped the autopsy will allow experts to understand how the whale came to be stranded on the beach, which is both a Site of Special Scientific Interest and an EU Special Area of Conservation.
He added: "It's just amazing to gain greater insight into these incredible animals.
"They decompose ridiculously quickly and the whale was already falling apart on Saturday.
"A post-mortem on a sperm whale is just so difficult logistically. The head is massive.
"We will be able to rule out a few possible reasons for its beaching from this sample.
"It can now be analysed for any possible issues in its brain function which could have caused it to navigate off course.
"I want to thank everyone involved in the effort. Everyone did such an incredible job."