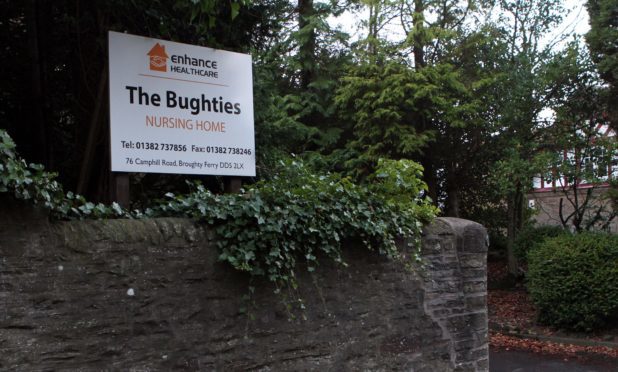 A former employee of a Broughty Ferry care home has been handed an official warning after threatening and abusing her colleagues while working there.
Ashley Stuart, who worked as a care assistant at The Bughtie's Nursing Home, threatened to hit a staff member with a cup before swearing at another in January 2016.
She also failed to inform the Scottish Social Services Council (SSSC), the industry's regulator, that she had been convicted of threatening or abusive behaviour in October 2015 while working at the home and had also been charged with assault.
A manager at the service said Ms Stuart left a number of months ago and stressed the home has undergone a staff overhaul under new management since the incident occurred.
The SSSC ruled that Ms Stuart's fitness to practice had been impaired by this "aggressive" behaviour that demonstrated a "loss of control".
The warning will remain on her registration for a total of five months.
On January 12, Ms Stuart told a colleague that she had asked another staff member to "pick up that f*****g shoe" but that she "did not listen".
On the same day, she also lifted a cup as if to hit a staff nurse working at the home.
A decision handed to Ms Stuart by the SSSC states: "Your fitness to practise is impaired because the behaviour is serious.
"The conviction violates principles of the profession to act in a way outside of
work that does not call into question your character and suitability to work
in social services."
The body also criticised Ms Stuart's reaction to the incident and ordered her to provide comment and reflection on her actions.
It added: "There is no evidence that you have remedied your
behaviour.
"You have shown a limited amount of insight into the behaviour
and consequences of your actions.
"Repetition of similar behaviour could place the public at risk of harm.
"The public would reasonably have concerns with the behaviour demonstrated."
A manager at the home said the service had undergone a transformation in recent months and had rebuilt its reputation.
She said: "The employee no longer works here and has no connection with us.
"There is no impact here from the decision made on Ms Stuart's fitness to practice.
"The future of the Bughtie's Nursing Home is bright."
The home is run by Enhance Healthcare Scotland who were also contacted for comment.