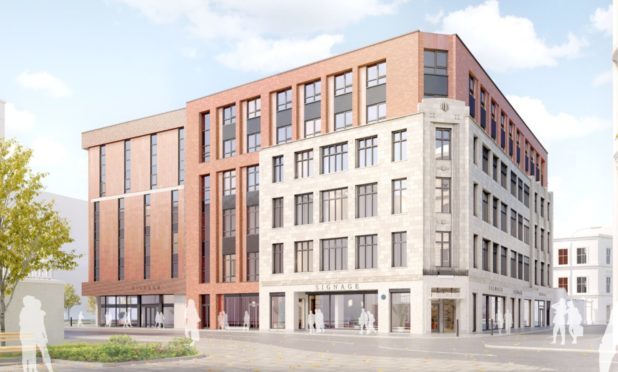 The developers behind plans to convert a former Dundee furniture store into two new hotels say 300 jobs will be created as a result.
Dundee City Council approved plans to transform the former Robertson's House Furnishers' Warehouse on Barrack Street last week.
The £20 million project will see the B-listed Wilson House demolished and replaced with two separate hotels and a bespoke, licensed restaurant.
Glasgow-based developer Structured House Group (SHG) has agreed to retain the 1930s art deco façade of the warehouse, which will be converted into a 115-room, three-star hotel overlooking the Howff, with a 300 square metre ground floor restaurant.
A newly-built, 110-room, four-star hotel will be located in neighbouring Willison Street to meet a growing demand for hotel rooms in the city.
A number of other major hotel projects are already under way in Dundee or being planned.
Focus Hotels Management is transforming the former Baxter Jute Mills into a boutique hotel and serviced apartments while Marriott is intending to open a hotel under its luxury AC brand opposite the V&A.
The Sleeperz Hotel being built over the railway station is also close to completion.
Work on the Barrack Street project is due to start in July with a scheduled finish date in October next year.
The Glasgow-based developer had originally intended to use the site, which has lain derelict for the past six years, as student accommodation.
Following representations from the local community council and members of the public, the company agreed to alter its plans to retain the front of the B-listed building that housed the furniture store for 130 years.
Craig Inglis, chief executive of SHG, said: "We're delighted that this exciting new project has been approved. It will create up to 300 new jobs and will enhance Dundee's growing status as a tourism and business destination.
"We have worked with city council planners on our design for the past two years to create a plan that will retain the building's iconic facade and four levels of the shop's front.
"Our amended plan aims to retain as much of the character and charm of the building as possible but to put it back into use so that it can contribute to the economic vibrancy of the city."
Mr Inglis added: "Everyone respects this fine building but no-one wants to see it lie dormant any longer."
City development convener councillor Lynne Short, said: "I was involved in discussions with the community group who were keen on keeping the façade as intact as possible.
"I am delighted about the council's decision and delighted this distinctive piece of Art Deco architecture is going to be maintained.
"The officers and the developers were keen to work together and I understand they are also keen for further work on projects and investing in developments on the waterfront."