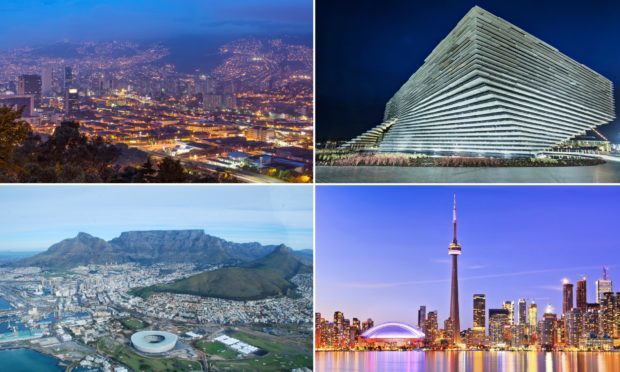 Dundee has been named alongside Toronto and Cape Town as one of the world's top six "off-beat design hubs" by a global travel magazine.
Suitcase, a publication read by more than 200,000 people, has named the City of Discovery on its lineup of world locations which have used design to drive their reinvention.
The magazine compiled a list of cities across the globe which are "reinventing themselves" and "transforming urban living".
These include Helsinki, Medellin, Tbilisi, Cape Town and Toronto – all locations which writer Fleur Rollet-Manus claims are "design-driven cities that are probing even further, questioning existing methods, finding solutions and striving for social change using the medium of design".
The article hails Dundee's "huge revival", drawing reference to the V&A and the waterfront redevelopment, the fashion and art scenes and the redevelopment of the former Baxter Brothers jute mill off Constable Street.
The feature, published on March 1, states: "A former economic powerhouse once renowned for its textile trade, Dundee's re-emerging contemporary fashion and arts scene, coupled with the wealth of digital media companies that call Dundee home, is cementing its place as the UK's cultural and design hotspot.
"The compact Scottish city is undergoing a huge revival with a £1 billion waterfront regeneration headed by the V&A Museum of Design.
"As part of the development, two new boutique hotels are taking residence in the historic Baxter Brothers and Co spinning mills.
"The newly appointed UNESCO Creative City, the first in the UK, will continue to turn heads as they strive to eradicate social problems such as unemployment and homelessness through community design initiatives and their annual design festival."
In October last year the Wall Street Journal called Dundee "Scotland's coolest city", placing it at number five on a top ten list of "where to travel in 2018".
Bloomberg Businessweek then listed it sixth in its "top 22" destinations to visit in 2018, while CNN Style placed the city on its 'top seven' list of the most eye-catching locations to visit in 2018.
The Guardian also listed Dundee on its "where to go hotlist" for 2018.
Quarterly magazine Suitcase is the brainchild of publisher and businesswoman Serena Guen, who was once labelled the "Mark Zuckerberg of publishing" by Bloomberg.
It is available at shops and newsagents across the globe, as well as on planes and in hotels.
For the full article, click here.