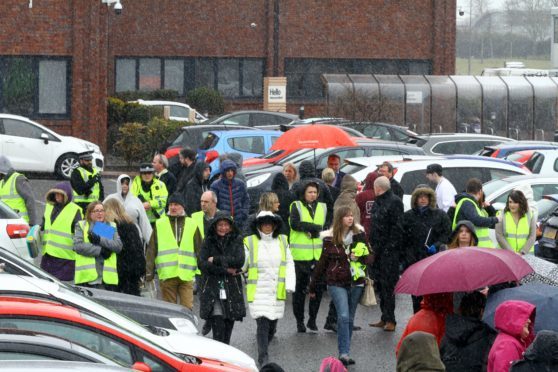 Police say suspicious packages that caused the evacuation of a Dundee call centre were not intended to cause harm.
The Tesco call centre in Baird Avenue was cleared and bomb disposal experts were called to carry out a controlled explosion after the packages were found at the premises on Wednesday.
However, in an update today, Chief Inspector Nicky Russell, local area commander for Dundee, said: "After examination, I can confirm the packages delivered to Tesco Call Centre in Baird Avenue, Dundee, yesterday were not intended to cause harm to people or damage to buildings.
"Both Police Scotland and EOD (Explosive Ordinance Disposal) can confirm the packages were not any form of explosive device or simulated explosive device. At no time were the staff or public at risk.
"We take all reports of suspicious packages very seriously and can never be too careful when dealing with incidents of this nature as public safety is our priority.
"I would like to thank the public for their patience whilst the incident was being dealt with."
Bomb squad carries out controlled explosion after two suspicious packages discovered at Tesco call centre