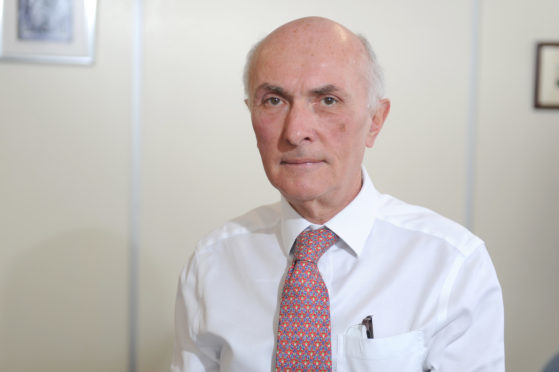 It is tough to know who had the worst Thursday night: health secretary Shona Robison or the then-chairman and chief executive of NHS Tayside, whose dismissals she effectively ordered.
Two scandals in the space of a few weeks forced Ms Robison's hand.
The first was the revelation £5.3 million from NHS Services Scotland intended for digital health projects had been misappropriated for other health spending.
It then emerged charitable donations given to NHS Tayside for patient comforts had been used for a new office computer system after the board agreed to temporarily suspend its own rules on how this cash was used.
Ms Robison called time on NHS Tayside's chairman Professor John Connell and said the position of chief executive Lesley McLay – an NHS employee she has no power to fire – had become "untenable".
Many, including Dundee-based MSP Jenny Marra, have been calling for change at the top of NHS Tayside for some time.
Its finances have been out of control since 2012 – six years and at least two health secretaries ago.
Ms Robison obviously believed change was necessary and while it was clear time was up for Ms McLay, the defenestration of Professor Connell was the wrong decision made for the wrong reasons.
A decent man, well-liked by his colleagues, he was given the thankless task in 2015 of returning NHS Tayside to an even financial keel.
To put the health board's finances into some sort of context, its annual budget is over £750 million. It is expected that by the end of this financial year, it will owe the Scottish Government around £45 million in loans it has borrowed over the last six years.
This is a huge sum, but relatively small given the health board's total spending over that time.
In fact, until the misappropriating of ehealth funds was discovered, its deficit this year would only have been something in the region of £4 million.
Granted, things were moving slowly, but they were at least moving in the right direction.
What is more puzzling is that both the ehealth and endowment fund decisions – the triggers for his effective sacking – were taken before his appointment.
For six years the Scottish Government has refused to grasp the nettle when it comes to NHS Tayside.
It has finally taken action but, ironically, the only one to come of last week's debacle with their reputation intact is Professor Connell.
Ms Robison appears less in control than ever while the health board has become a byword for incompetence, despite the excellent care frontline staff provide on a day-to-day basis.
The man named as Professor Connell's replacement, John Brown, has just seen his own health board, NHS Greater Glasgow, overspend by £20 million this year –  five times as much as NHS Tayside did.
He now has to restore faith in NHS Tayside and find £45 million of savings next year.
Given the financial straits most health boards find themselves in, the problems at Tayside cannot simply be written off as financial mismanagement, although that has clearly occurred.
If health boards across the country are spending above their means, then perhaps, we are not giving them enough money.
And if the NHS needs further funding, then it is the Scottish Government's responsibility to find a way to provide it, whatever difficult decisions that may involve.
Because, eventually, there will be no more fall guys left to blame.