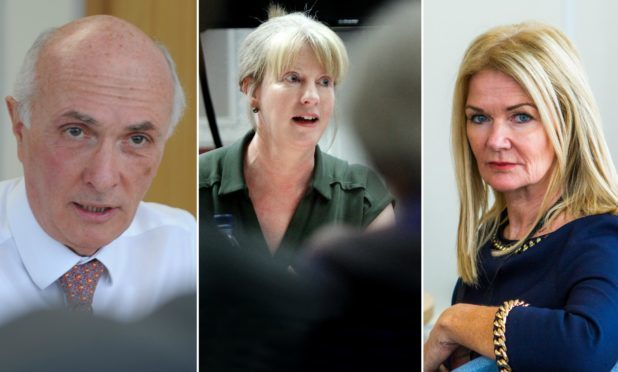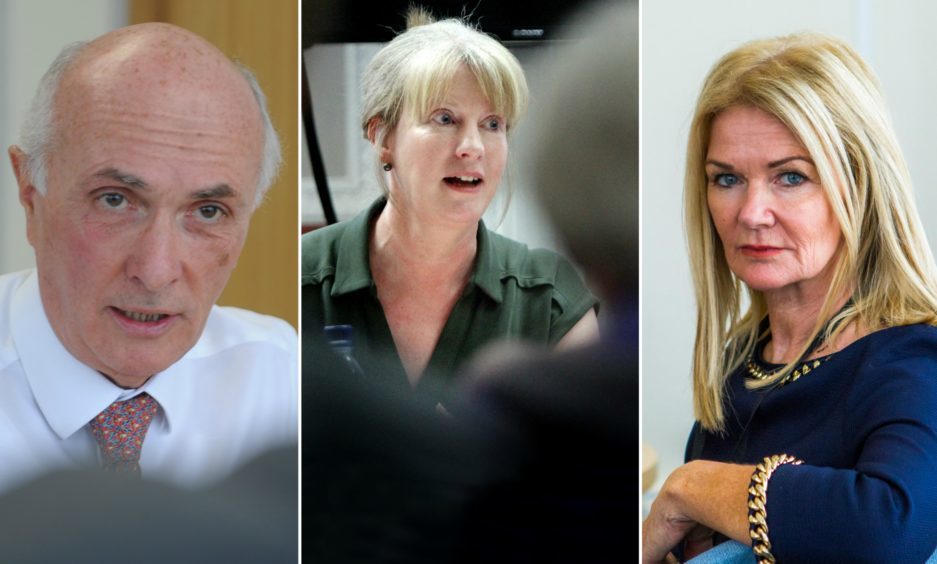 Health Secretary Shona Robison installed a new management team at NHS Tayside amid accusations she is using "human shields" to deflect from her lack of control of the NHS.
Ms Robison had called for urgent change at NHS Tayside after it emerged charitable donations made to its endowment fund had been used to plug a gap in the cash-strapped health board's finances.
She called for Professor John Connell to resign on Thursday night and he quit with immediate effect yesterday morning. NHS Greater Glasgow and Clyde chairman John Brown was named as his interim successor a few hours later.
A new acting chief executive has also been appointed. Malcolm Wright, the chief executive of NHS Grampian, will assume day-to-day control of the health board.
Chief executive Lesley McLay, who Ms Robison had said was in an "untenable" position, was not at work yesterday but The Courier understands she has neither resigned nor been dismissed from her post.
Ms Robison said: "Reports of public money not being accounted for properly and the issue of the endowment funds proved to me that the leadership team in NHS Tayside had an insufficient grip on matters and that the scale of the challenge was far greater than it first seemed.
Health secretary announces new management team for NHS Tayside
"As such, this meant the current position was untenable."
She added: "It gives me no pleasure to take this action.
"The chair of NHS Tayside, John Connell has given over 40 years of public service and has steered NHS Tayside with real dedication.
"His commitment is admirable, as is that of the chief executive Lesley McLay, who is a long-standing and well-respected NHS employee.
"All organisations reach a point, however, where a change of management is needed and this is the case in NHS Tayside.
NHS Tayside is expected to exceed its budget by between £9 and £12 million this year and has to find £45m of savings next year.
Ironically, NHS Greater Glasgow's deficit will exceed Tayside's this year. It will require Scottish Government loans of around £20m to balance the books.
Details of the endowment fund spending emerged within weeks of earlier revelations that money intended to pay for digital health programmes had been used to prop up the health board's balance sheet.
Professor Connell handed in his letter of resignation yesterday morning.
It is understood the letter also expressed his dissatisfaction about the way in which his tenure as chairman was brought to an end.
Speaking to The Courier on Thursday night, Professor Connell said he was "disappointed" by Ms Robison's order to resign.
Mid Scotland and Fife Conservative MSP Murdo Fraser said Ms Robison's treatment of Professor Connell had been "shameful".
He said: "What little respect NHS officials and staff had for the health secretary has surely been lost following this latest bid to save her own skin.
"NHS Tayside is suffering from problems present long before Prof John Connell took charge and it is shameful to see the person in charge of our NHS use officials as human shields to cover up her own under-performance.
"The SNP has lost complete control over our NHS, a service that they have been in charge of for over 11 years and it's time they took responsibility for their mismanagement."
https://www.thecourier.co.uk/fp/opinion/632228/embargoed/
Fellow Mid Scotland and Fife Tory MSP Liz Smith MSP said: "This latest smokescreen from Shona Robison should be seen for exactly what it is — political spin aimed at deflecting blame from the Scottish Government.
"Issues over the use of endowment funds are incredibly serious, but this could be the tip of the iceberg when it comes to problems at NHS Tayside.
"Across Scotland, NHS boards are facing similar financial difficulties and the problems at Tayside are not unique. This is particularly true when it comes to the performance of integrated joint boards.
"There are clear structural issues with IJBs, including a lack of transparency and blurred lines of responsibility.
"Instead of calling for heads to roll at NHS Tayside, it would be more useful to have a fully independent review of IJB structures as these are not delivering."
Health secretary asked to 'consider her own position' amid calls to quit
Opposition politicians last night called for Scottish Government Health Secretary Shona Robison to resign over the ongoing crisis at NHS Tayside.
Ms Robison ordered chairman Professor John Connell to resign and said chief executive Lesley McLay's position had become untenable after it emerged charitable donations had been used to pay for an IT System.
However, Conservative health spokesman Miles Briggs said the crisis at NHS Tayside was down to 11 years of SNP "mismanagement".
NHS Tayside is now without a chairman while finance director Lindsay Bedford retired last month after it emerged £5.3 million of money set aside for digital health initiatives had been used to make the health board's balance sheet look better than it was.
Mr Briggs said: "After 11 years of Nicola Sturgeon and the SNP centralisation and mismanagement it will clearly now suit incompetent ministers to blame NHS senior management for the failings and financial difficulties which we have seen across the board.
"Perhaps it's time they started to look closer to home."
Scottish Labour health spokesman Anas Sarwar MSP said: "I think it is right that the NHS Tayside chair and chief executive resign from their positions.
"They have let down local staff, they have let down local patients and they have broken the trust of local people by misusing charitable money in this way.
"But there are also still serious questions for SNP Health Secretary Shona Robison to answer.
"This is not an isolated incident – there has been a series of incidents over a number of years, reflecting a complete lack of leadership and mismanagement of our NHS by the SNP minister.
"Shona Robison must now consider her own position as she has serious questions to answer."
Liberal Democrat health spokesperson Alex Cole-Hamilton MSP added: "Professor Connell was right to step down, but the blame for this crisis does not rest solely with him.
"The health secretary has watched on as the management of NHS Tayside has deteriorated.
"Three years in a row Audit Scotland has reported on the financial turmoil there.
"There was no shortage of warnings and Shona Robison has had ample opportunity to step in and provide Tayside with the resources and leadership it so desperately needs.
"Tayside has been limping along for years and the health secretary must apologise for the Government's failure to get to grips with this."
North East region Conservative MSP Liam Kerr said Professor Connell had been "thrown under the bus in an attempt to save Shona Robison".
"There have been three health secretaries since 2012, when the root of these problems was diagnosed," he said.
"Not one has taken action to guide the service.
"When will the SNP start to be accountable for NHS Tayside's failures?"