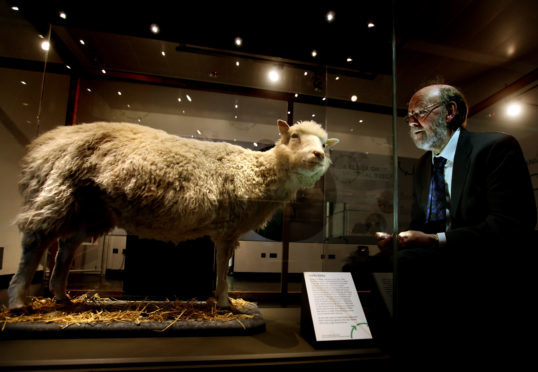 The scientist behind Dolly the Sheep has backed new research into Parkinson's disease —after revealing his own diagnosis with the condition.
In 1996, British embryologist Professor Sir Ian Wilmut led a group of Edinburgh-based researchers to a world-first when they successfully cloned a mammal to create Dolly at the city's Roslin Institute.
He announced his diagnosis on World Parkinson's Day yesterday as he gave his backing to a joint Dundee and Edinburgh research programme.
The study into the progressive neurological condition, which affects around 1 in 500 people worldwide, will feature the first therapy trials in Scotland in a generation.
Professor Dario Alessi, of Dundee University, said he was confident progress could be made in tackling the disease, despite little progress over the past half century.
"All attempts to slow the progression of Parkinson's have thus far failed," he said.
"Surprisingly today's most widely utilised Parkinson's drug, levodopa, was first used in the clinic in 1967.
"In recent years, our knowledge of the genetics and biology underlining Parkinson's disease has exploded.
"I feel optimistic and it is not unrealistic that with a coordinated research effort, major strides towards better treating Parkinson's disease can be made."
Parkinson's disease is a progressive condition caused by damage to specific cells in the brain.
It affects movement and is often associated with involuntary shaking.
Therapies that reduce symptoms can help to prolong quality of life, but currently there are no treatments to slow or halt the progression of the disease.
At present, Scottish patients who want to take part in clinical trials of treatments that could delay progression have to travel to centres in England or Wales, or further afield.
Professor Wilmut said: "Initiatives of this kind are very effective, not only because they bring more people together, but because they will include people with different experience and expertise.
"It was from such a rich seedbed that Dolly developed and we can hope for similar benefits in this project."
Steve Ford, chief executive of Parkinson's UK, commended Professor Wilmut's courage.
He said: "We admire Sir Ian's bravery in announcing that he has been diagnosed with Parkinson's which can be a difficult step to take. Sir Ian joins more than 145,000 people across the UK who are living with Parkinson's.
"His honesty on World Parkinson's Day will not only help to raise awareness of the condition, but also heralds a major new Parkinson's research initiative.
"In leading the team that created Dolly the sheep, Sir Ian's track record of research success is second to none and he is held in the highest of esteem by research communities around the world.
"We're excited about this initiative from the Universities of Edinburgh and Dundee as it fits perfectly with our ultimate goal to accelerate Parkinson's research, improve access to clinical trials and ultimately, find a cure for everyone living with Parkinson's.