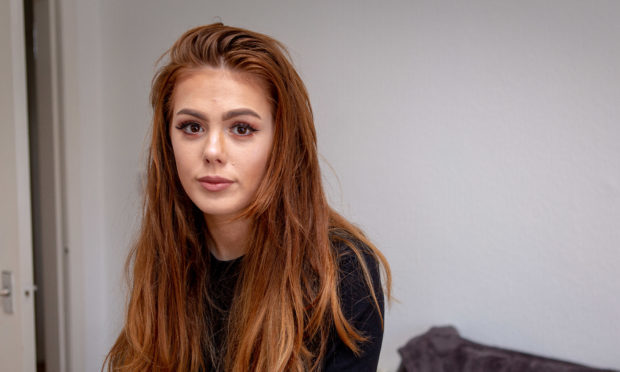 A young Dundee woman has spoken of her frustration after a police investigation into a hit and run which left her with severe back injuries collapsed.
Emily-Scarlett Forbes, 20, was involved in a two-car collision in Dundee on August 18 last year with the driver of the other vehicle suspected of speeding.
She said police pinpointed the suspect but could not make contact — with the case eventually being closed due to "insufficient evidence".
Her injuries mean she can no longer pursue a career as a nurse and the incident has left her too anxious to drive again.
She has now criticised the police for what she called a "lack of communication" throughout the investigation.
Emily-Scarlett, 20, said: "I was never kept in the loop. I didn't feel the communication was that great.
"I have tried to get in contact so many times to find out what's happening with the case but it has been difficult.
"I complained about it and that's when they told me they had fingerprints and CCTV evidence.
"I was given a few updates like this but then suddenly they got in touch to say there is not enough evidence to take the person to court.
"I believe they never managed to actually speak to the suspect."
The accident wrote Emily-Scarlett's car off and her injuries meant she had to take seven weeks off work.
She now works in a call centre whereas she was studying to become a nurse at the time of the accident.
She said: "It has affected me a lot.
"I can't work as a care home nurse now because of the problems with my back.  I was in the middle of completing my SVQ.
"I wouldn't be able to move an elderly person if needed to because I could injure myself.
"I do want to drive again but I am really nervous about it.
"It left me out of pocket too because I was off work for seven weeks and the job I have now doesn't pay as well as if I had managed to complete my qualification and get a job as a nurse."
A spokesperson for the Tayside division of Police Scotland said: "Following a full investigation into a road traffic incident in August 2017, there was insufficient evidence to proceed further.
"Police Scotland aims to deliver the highest standards of policing to the communities it serves.
"On those occasions where people feel that our service has fallen short of their expectations, or the standards that the public deserve, it is right that they make us aware of their dissatisfaction.
"They can do so at: www.scotland.police.uk/about-us/police-scotland/complaints-about-the-police/"