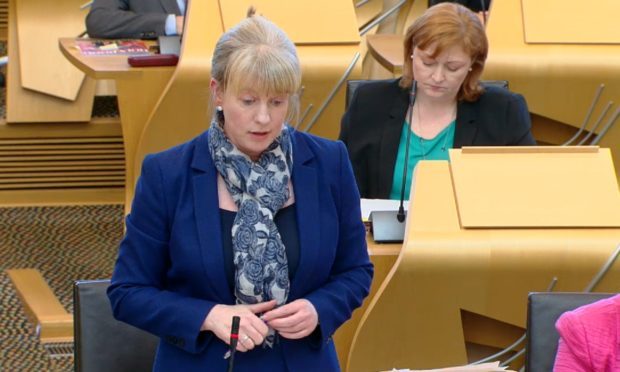 Shona Robison batted off a call for her resignation as she updated MSPs on the financial mess at NHS Tayside.
In a broadside at the beleaguered health secretary, Labour MSP Anas Sarwar said Ms Robison should consider her position for allowing the board to descend into crisis.
NHS Tayside has been mired in accounting controversy – including using charity cash to fund IT projects – that has forced out its senior leadership.
Mr Sarwar told her: "You have let down NHS staff. You have failed too many patients. You have breached the trust of the public. This has happened on your watch in your local health board."
Ms Robison insisted the Scottish Government has given "extensive support" to the board, including at least £45m in emergency loans.
In her statement to Holyrood, she said: "I have been clear with the new leadership (at Tayside) that their priorities must be to steady the ship, provide clarity on where the organisation is going and to take the public and the staff of NHS Tayside with them throughout that process.
"I have every confidence in John Brown and Malcolm Wright that they will deliver this.
"I look forward to seeing NHS Tayside reach its full potential and become the organisation that the staff and people of Tayside deserve."
Bill Bowman, the Scottish Conservative MSP, said an independent inquiry must establish "who knew what and when" over the misuse of public and charitable money.
Jenny Marra, the Labour MSP, called for every member of the Tayside board to undergo skills tests to see if they are up to the job, which Ms Robison said is a matter for the new leadership.
Ms Robison poured cold water on her predecessor's proposal for NHS Tayside to be folded and replaced with one of three super-boards covering the whole country, as the Lib Dems demanded the centralisation plan is rejected.
The Greens said the struggle for more than half of the health boards to balance the books is evidence of a lack of NHS funding.
NHS Tayside crisis: Read Shona Robison's full statement to Parliament
It emerged this month that charity donations were used to cover general spending at NHS Tayside.
In March, it was revealed that digital healthcare funds worth £5.3m had been recycled since 2012, making the board's finances look better than they really were.
An investigation by the charities regulator OSCR is underway, which is looking at the behaviour of the Tayside board over its use £2.7m of endowment fund cash, as well as probing whether other health boards are implicated.
The board is expected to require at least £12 million in bail-out loans from the Scottish Government for 2017-18, which would bring the brokerage total to £45 million.
There are at least three other health boards in Scotland which are struggling to balance the books for the financial year and are likely to need government support.
Professor John Connell left his post as chairman after being asked to resign by the health secretary.
John Brown, who is chairman at NHS Glasgow and Clyde, is taking over Professor Connell's responsibilities.
Lesey McLay is "not at work" and her chief executive role at Tayside is being performed by Malcolm Wright, the CEO at NHS Grampian.