Dundee's role in scientific, social and health innovations in the last 200 years has been highlighted with the unveiling of five new plaques on Discovery Walk.
School children from across the city joined forces to reveal bronze plaques commemorating postage stamp pioneer James Chalmers, electrical scientist James Bowman Lindsay, X-ray pioneer George Pirie, inventor and instrument maker George Lowden, and doctor and health reformer Thomas MacLagan on Friday.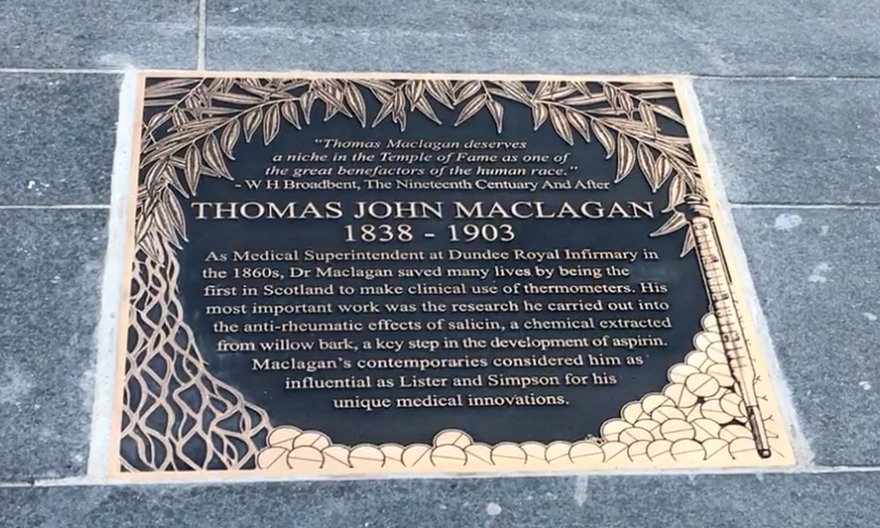 Discovery Walk steering group chair Kelly Marr said: "Discovery Walk celebrates people who were either born in or spent much of their lives in Dundee, and who made a notable or influential discovery or contribution to society.
"We're so excited to be adding another five plaques commemorating five very special individuals who not only helped put Dundee on the map but also did so much to create the modern world."
Each plaque,  designed by local artist Suzanne Scott, includes a short description of the individual's significance, alongside visual emblems and motifs illustrating their achievements and life.
The unveiling  ceremony the waterfront was presided over by Depute Lord Provost Bill Campbell.
The ceremony also heard speeches from Professor Dame Sue Black of the University of Dundee, whose achievements in pathology have contributed to Dundee's modern reputation as a centre for scientific discovery, as well as poet and historian Eddie Small.