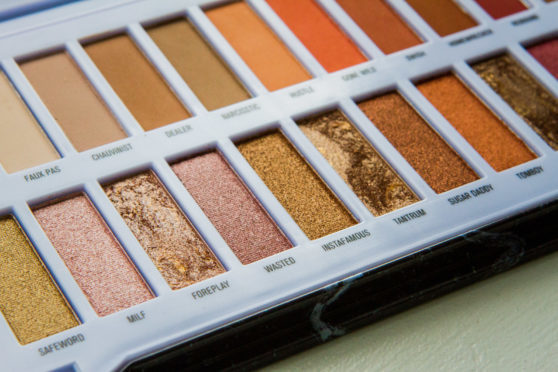 William Shakespeare was, and I'm not overstating this, a bit of a wordy chap.
Many regard him as the greatest writer in history due to the breadth of subjects he covered, his unparalleled understanding of the human condition and the hundreds of words he invented, from assassination to zany.
More relevantly, given the outrage over a set of eye shadow bought in Dundee this week, he had plenty to say about both make-up and names.
Hamlet reprimanee Ophelia for wearing make-up by saying "God has given you one face and yet you paint yourself another" while in Romeo and Juliet he has his lovestruck heroine ponder "what's in a name?"
Of course, if Juliet were a real 13-year-old and living in Dundee today, admittedly two rather large ifs, she might be asking herself what it means to wear a shade of eye shadow called MILF rather than whether or not it is acceptable to date a Montague.
High street chemist Boots has been selling a range of make-up that, in a desperate bid to appear edgy, has used a series of highly sexualised names for some of its items.
These ranged from shades of eye shadow like homewrecker, foreplay and safeword to lipsticks with titles like dominatrix or booty call.
This, at first glance, might all seem like nothing more than a bit of harmless, if risque, fun; the cosmetic equivalent of a saucy seaside postcard.
But given these products could easily fall into the hands of young children, it is not prudish to say the names were unacceptable.
It may seem like a giant leap from make-up to pornography but the internet has made the latter ubiquitous and its impact on relationships, and attitudes towards women generally, is dangerous.
Studies have shown this is distorting how many young people, of both genders, view sexual relationships.
By using terms like MILF, the company behind the product risks normalising, or encouraging, those unhealthy attitudes.
Boots, and manufacturers Revolution London, have agreed to change the names in future.
But their decision to use those names in the first place shows that folly and ignorance, as Shakespeare once said, remain mankind's common curse.
And rather than making anyone involved contemporary and cutting edge, it's made them as cheap and desperate as those names imply.