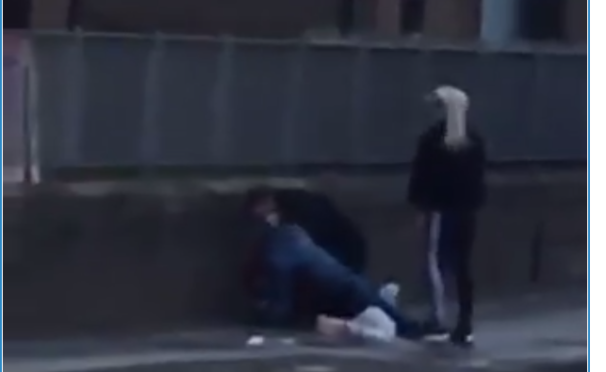 A video-clip of two people who appear to be attacking an elderly man on a Dundee street has gone viral.
A man and a woman are recorded chasing the apparent victim, with the male attacker struggling with him on the ground while the female looks on.
The incident happened at the Hilltown, next to the TSB bank, just before 9pm.
https://www.facebook.com/bruce.harpernew/videos/196813277709852/
The clip has been viewed more than 30,000 times and shared nearly 1,000 times.
An eyewitness said he saw the duo "batter" the man, whose shopping was "all over the road".
Police were called to the area after reports of a mass brawl but did not make any arrests.
A Police Scotland spokesman said: "We had a call at 8.50pm with reports of a group of males fighting outside a bakery on the Hilltown.
"The reports said 10 people were fighting. A second phone call related to the incident reported two males fighting not far from the area.
"Police attended and traced everybody. However, nobody wished to make any complaint and there were no arrests".
Bruce Harper, who posted the video online, said that it was his aunt who witnessed the disturbance.
He explained: "She was at the Tesco in the Hilltown and was sitting in the car with her kids when she saw it.
"There were two people pestering an old man, shouting and swearing at him.
"He wasn't doing anything, he was walking away from them.
"They kept shouting, so in the end he shouted something back and they went after him.
"They swore at him and then started hitting him and were kicking his shopping around.
"My aunt was quite shocked as the guy was fairly old – he looked like he was in his 60s.
"Everyone that keeps saying why did she not help instead of record, it's because she was scared.
"It wasn't a nice thing for her to witness."