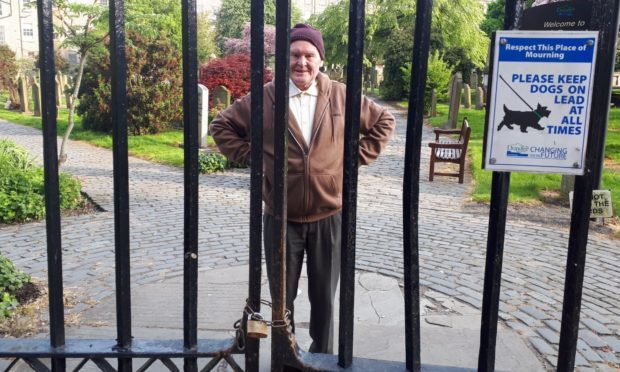 A pensioner was left in a grave situation when he was locked inside a Dundee cemetery by bungling council workers.
John Stewart, 65, was returning to his Dryburgh flat from the city centre on Monday evening when he decided to enjoy the sun and wander around the city's ancient Howff.
After spending some time sat on a bench in the western end of the graveyard he got up to leave at around 6pm.
However, he was stunned to find the northern exit at Meadowside had been padlocked shut. A quick check of the other exits revealed they too had been locked.
Mr Stewart said he could not find a number to call anywhere and considered phoning the emergency services for help.
He said: "I couldn't believe it when I went to the gate and realised I was flipping locked in.
"I had been inside since 3pm and I was just wandering around the gravestones, which I often do.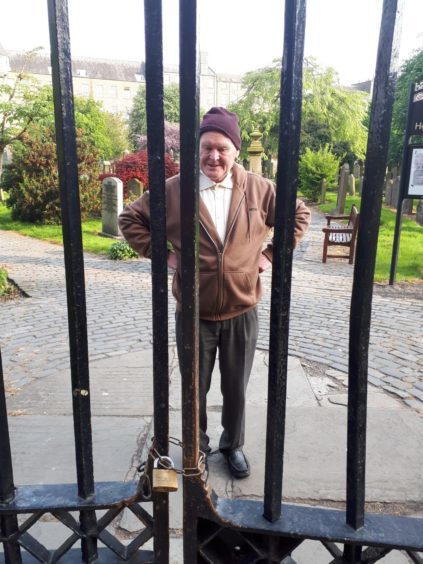 "It was around 20 minutes from the moment I realised I was locked in until I was freed.
"I would have thought the area should be checked before it is locked up. I'm annoyed that I was trapped."
Mr Stewart eventually managed to grab the attention of a Good Samaritan who called the chair of the Dundee Howff Conservation Group, Simon Goulding.
After rescuing poor John, he said Simon told him that it was the first time he had ever heard of someone being locked in the grounds.
Mr Stewart added: "It was a shock. I tried to climb over the spiked fence but it was too dangerous.
"I had my shopping from Tesco and I was on my way home.
"It's ridiculous. On Sunday it was open until 8pm."
The cemetery is locked at dusk each night by council workers who are expected to thoroughly check the grounds to ensure it is empty.
A Dundee City Council spokesperson said: "We would like to apologise for this situation.
"For safety reasons the Howff Cemetery is locked every night."