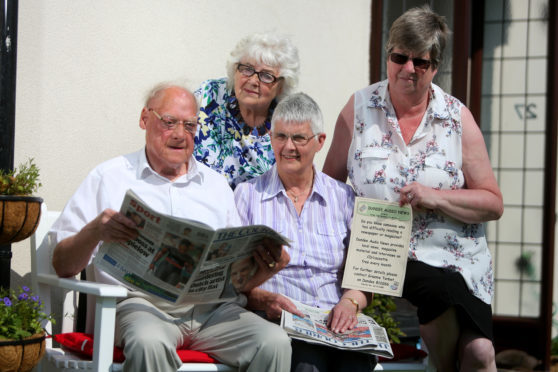 A service which provides "talking newspapers" for visually impaired people in the Dundee area is celebrating its 40th anniversary.
Dundee Audio News was launched in 1978 as the Dundee Tape Newspaper and provided audio recordings of local news from The Courier and other newspapers to people with visual impairments.
The service's current producer Graeme Tarbet is celebrating his own anniversary this year too . He began producing the bulletin in 1982 and is overseeing his 400th edition.
Graeme first got involved with the talking newspaper when his wife heard a radio appeal  for readers to record news segments for the talking newspaper.
He started off reading and recording articles but took over as producer in 1982.
Approximately 50 people receive the CD, with editions produced each month apart from January.
Dundee Audio News is a registered charity and is part of the Association of Scottish Talking Newspapers and is funded purely by donations.
The reliance on donations is because the News does not charge a membership fee and has free postage. Each issue is sent out in a specially padded envelope so recipients know what is inside.
For the first part of each issue, Graeme selects short items of around three and a half minutes long so that each reader records three or four items.
That is followed by a 10-minute piece by Neil Paterson, the aim of which is to bring to listeners notice events that are happening in the local libraries or the Central Library in Dundee including author visits and dementia counselling services.
Graeme has also recorded interviews with over 421 public figures and celebrities including the Hairy Bikers, Andrew Marr and Nicola Sturgeon for Dundee Audio News.
Alongside newspaper articles, the News also produces a 60-minute CD of magazine items and short stories.
He said one of the reasons why the Dundee Audio News is so popular with listeners who have impairments is that it focuses on smaller local stories, and in particular, stories that celebrate achievements made by people with impairments, both visual and physical.
In particular, DAN has recorded articles covering Amanda Kopel's Frank's Law campaign, which aims to provide free personal care for people under the age of 65 with dementia.
Graeme said: "I've really enjoyed my involvement with the Audio News.
"I've tried to vary the content, involve travelogues and do location recordings, to bring something different and bring the best I possibly can to my listeners."
Anyone who wants to receive Dundee Audio News should contact Graeme via email on graemetarbet@hotmail.com