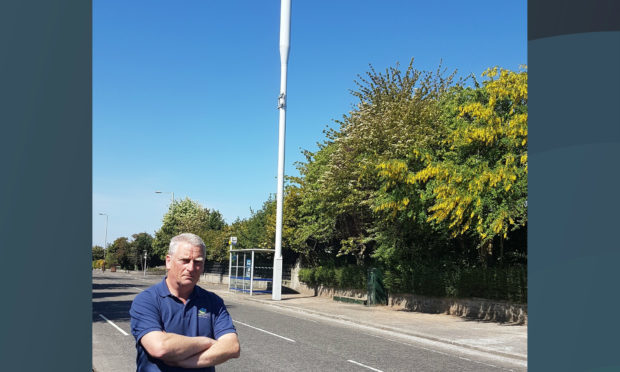 A controversial 15m mobile phone mast recently erected in Broughty Ferry has been labelled an "ugly and imposing monstrosity".
Plans for the monopole, located on Strathern Road in Broughty Ferry, had been rejected by a majority of Dundee councillors in August but the Scottish Government overturned the decision.
The mast will improve mobile phone signal reception in the area, providing 2G, 3G and 4G communications capabilities but councillor for the Ferry, Craig Duncan, is demanding the it is re-sited as it constitutes a "blot on the landscape"
He said: "This ugly mast could have been sited on Arbroath Road adjacent to the north side of Dawson Park.
"There it would have been well away from residents' homes and it is hugely disappointing that the applicant did not act with a 'good neighbour' approach to siting of the antenna.
"I hope that the company will now listen to my request to re-site the monopole."
A reporter for the Scottish Government's development management department, Andrew Fleming, had said the pole would not have "significant detrimental visual impact" to the Ferry area.
And city development convener Lynne Short had previously said she was "incredibly pleased" with the Scottish Government's decision, adding access to internet was a right for all.
Mr Duncan said: "To say it doesn't have a detrimental visual impact is a very subjective view.
"I think a great number of residents agree that it doesn't look good. It's about more than just this one mast though. For the Scottish Government to overturn the decisions of democratically-elected local councillors just isn't right.
"It's a very disappointing and disheartening result. Ultimately the last hope is for the company to reconsider."
A spokesperson for CTIL, which plans and improves Vodafone and O2's network of base stations, said: "Vodafone and Telefonica customers expect to be able to use their mobiles and devices where they live, work and travel.
"Base stations are low powered devices which cover approximately half a mile in radius, therefore we have to put base stations close to our customers.
"Vodafone and Telefonica identified that they need to improve the coverage to their customers in West Ferry and proposed a base station at Strathern Road.
"The proposal was refused planning permission in 2017, we reassessed the local area but determined  that the proposed site was the best location available and appealed the Council's decision.
"The subsequent appeal was successful.
"The mobile phone base station on Strathern Road will provide improved network coverage to the local area, including 4G for Vodafone and O2 customers."