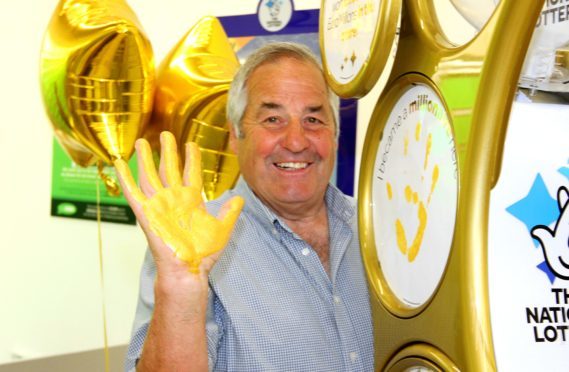 A lottery winner in Dundee has kept his feet on the ground, saying his life "didn't change much" after becoming a millionaire.
Raymond Storey, 64,  won a cool £1.05 million in 2014, but aside from retiring earlier than planned and buying a house, he said his life hasn't changed too much.
He netted the fortune from a EuroMillions 'Mega Friday' draw, when 10 millionaires were made across the UK in one night.
The former lorry driver was back at Asda on Myrekirk Road in Dundee on Thursday, where he bought his wining ticket, to brand a new National Lottery playstation with his hand print.
The limited-edition stand features a gold theme and signage declaring it as the site where a winning ticket was bought.
"My life didn't change that much," he said.
"I'm just able to do what I want when I want and live my life without any financial worries.
"We moved house and that's about the only change. I still live in Dundee and we don't tend to go abroad as there is still a lot to see in this country. There are a lot of beautiful places throughout the UK.
"We live quite a modest life really and have tried to keep our feet on the ground.
"We had quite a nice life anyway, so it hasn't changed all that much.
"The lottery people do keep in touch with you to make sure you handle the change. You hear tales of some people who aren't able to adjust to it, but the lottery have always been there and arrange for us to meet other winners to see how everyone is coping.
"It becomes a bit of an exclusive club, but it helps," Raymond continued.
"It's good to see people benefit from the charity money that the lottery puts in. It's different from a bookies in that if you lose a pound there, it all goes to them. With the lottery, some of that cash goes to helping sick kids, improving schools and things like that.
"I still play from time to time because lightning can strike twice. I've heard that it's happened to a few people."
In the DD postcode district, 21 millionaires have been created since the lottery began in 1994.