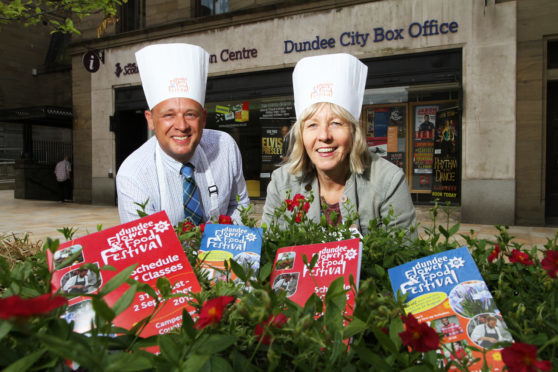 Tickets for the 30th annual Flower and Food Festival have gone on sale.
The three-day event organised at Camperdown Park by Dundee City Council  will offer a plethora of food, celebrity chefs, horticulture, garden designers and family activities.
Culinary highlights this year will include BBC MasterChef: The Professionals 2016 champion Gary Maclean and gardener Christine Walkden.
Also in the line-up is television presenter Ben Faulks, known for his children's television character Mr Bloom. He will be joined by Mr Bloom's band, who perform nursery songs.
Among the food-related attractions will be the 'Desperate Dan-wich Competition', organised by Dundee and Angus College, NHS Tayside and the local authority.
The competition invites primary four schoolchildren to create their own sandwich in a bid to make them more creative and engaged with their food.
Floral fans will be in for a treat as numerous flowers and vegetables will be on display, with prizes going to those judged in the top three places of each category.
SNP councillor Kevin Cordell, neighbourhood services convener, said: "I am delighted to be able to announce that tickets for the 30th Dundee Flower and Food Festival have gone on sale.
"Visitors to this year's festival will be treated to wonderful floral displays as part of the British Begonia 12 Board Championships and the NVS Scottish Championships."
SNP councillor Anne Rendall, who has been involved since its inception, said: "With the festival taking place just weeks before the opening of the V&A, we are looking at adding a cultural expo to the festival.
"A lot of people will be coming to Dundee for the V&A but do not know about the other gems of the city, so as part of the 30th anniversary of the festival we will be looking to celebrate Dundee's heritage.
"An example of how we hope to do this is the changing of McManus to McMenus in celebration of 80 years of the Beano.
"I knew when we started the festival that it would last many years. It is well loved by Dundonians. They go every year and it's at the same time of year so they can put it in the diary.
"We have been lucky with the weather over the years so hopefully that continues.
"I would encourage everyone to come and they will have a great time."
Tickets are available from the Dundee Box Office or can be purchased in person during the festival, which takes place from Friday August 31 to Sunday September 2..
Accompanied children under the age of 16 will be granted free admission.