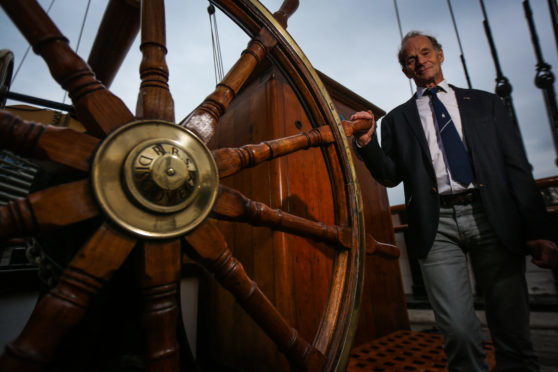 Captain Scott's grandson was in Dundee on Wednesday to officially open the newly refurbished Discovery Point.
Falcon Scott, 64, travelled from his Oban home to perform the honours at the visitor attraction, which has enjoyed a £500,000 face-lift as part of its 25th anniversary.
He followed in the footsteps of his grandfather as he boarded the RRS Discovery, the Dundee-built ship which took his grandfather to the Antarctic on its maiden voyage in 1902.
No stranger to adventure himself, Mrs Scott has visited the Antarctic 14 times, and has helped to refurbish a hut that his grandfather's team built on their journey.
He said the Discovery — and its Dundee roots — were important to his family.
"The ship had to be made of wood due to the magnetic forces in the South Pole," he explained.
"Not a lot of ships were made of wood by then so Dundee was one of the few places it could be done, I think because of its whaling history, so it's always good to come here.
"I am honoured to be opening these newly upgraded spaces. I continue to be fascinated by my grandfather's expedition and that's the beauty of Discovery Point – that you can keep coming back to learn not only about this historic Antarctic trip but about other tales of adventure and exploration."
Among the new additions to the Discovery Point visitor centre are a multi-purpose learning and activity space, an updated gallery and touch-screen that allows people to digitally explore Antarctic huts new and old.
A bird specimen brought back by fellow adventurers Ernest Shackleton and a sextant used by Sir Ranulph Fiennes are also on display.
And that attractions are not all Antarctic related, with a Nasa flight suit among the treasures awaiting visitors.
The project was part funded by the Coastal Communities Fund, a government initiative to help coastline economies, and Dundee City Council.
Gill Poulter, Dundee Heritage Trust heritage director, said: "Everyone at Dundee Heritage Trust is very excited about the new improved galleries here at Discovery Point and we hope visitors enjoy them as much as we do.
"Welcoming Falcon Scott as our guest of honour has been a wonderful way to mark this special time as we celebrate our 25th year as a visitor attraction."