A campaigner from Dundee pleaded with MSPs to help her tackle a phenomenon that kills hundreds of young people every year.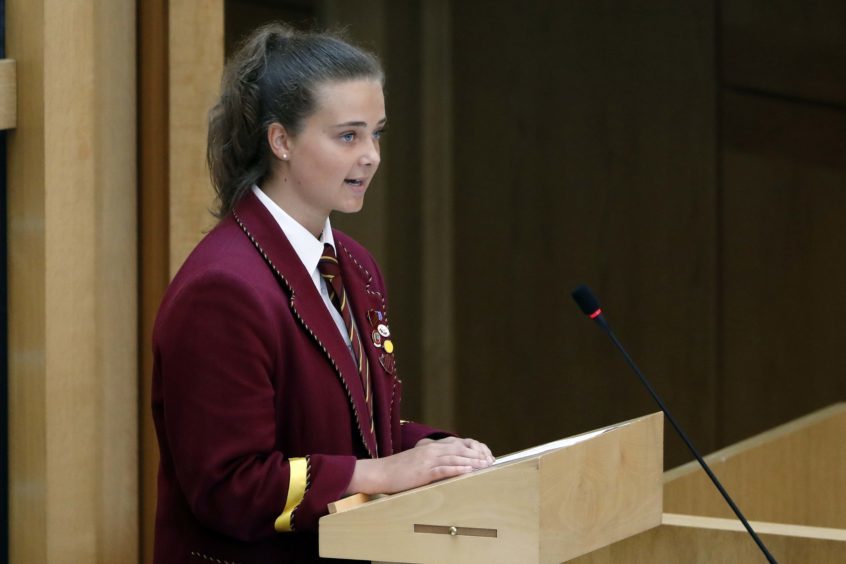 Harris head girl Abby Lang followed in the footsteps of Nelson Mandela and the Dalai Lama to deliver the Time for Reflection speech to the Scottish Parliament on Tuesday.
The 18-year-old is calling for universal screening in schools to prevent young sudden cardiac deaths (YSDC), which would cost an estimated £1 million a year in Scotland.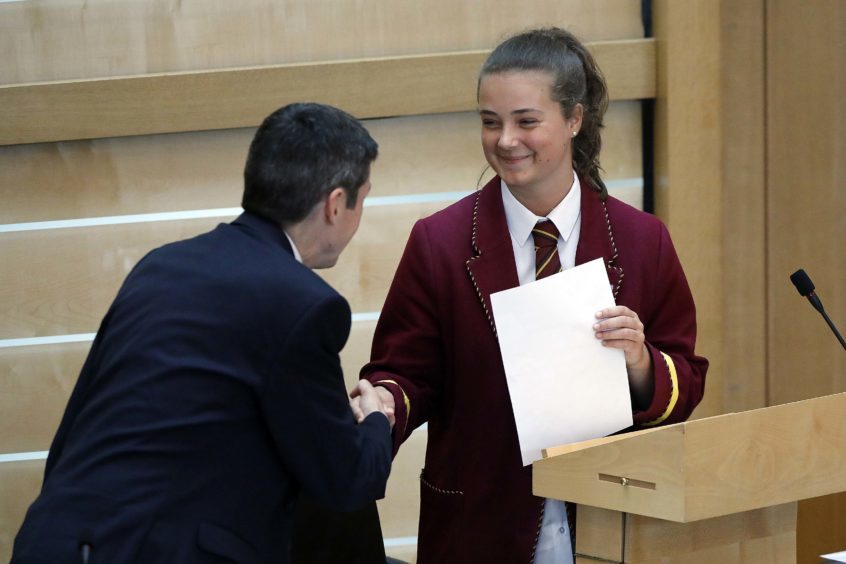 Her push for a new national strategy that would fix flaws in the approach to YSDC, including its under-reporting as a cause of death, was buoyed when all 59 Scots MPs backed her campaign on Monday night.
Abby was inspired to campaign for Cardiac Risk in the Young (CRY) after attending a screening at her school in memory of Pete McAvoy, a footballer from Dundee who died of an undiagnosed heart condition aged 22.
Her efforts are also in memory of fellow Harris pupil Yusef Abubaker, who died suddenly from an undiagnosed heart condition age 12.
Speaking after her speech, Abby said: "There is a long way to go, we are moving in the right direction, but we are not yet where we need to be."
Abby was supported in the Holyrood gallery by Peter McAvoy, who lost his 22-year-old footballer son Pete three years ago.
He suffered a cardiac arrest, which was linked to an undiagnosed heart condition, while studying in the US.
His father urged politicians to put some of the extra £2 billion, which the UK Government says is coming to Scotland from NHS funding increases in England and Wales, into a free screening programme.
Peter said a test would cost no more than £50 per school leaver, adding: "That's a drop in the ocean in terms of NHS funding."
"There is a big resource issue in the health service and it is about prioritising.
"As the father of a son who died to me it is the top priority. I understand the NHS will have many others, but surely 12 young people dying needlessly a week in the UK should be one?
"If my son had the chance of having a heart test then he wouldn't be dead."
Abby and Peter are campaigning for the Cardiac Risk in the Young (CRY) charity, which was set up in 1995 to reduce the number of young sudden cardiac deaths.
---
Arbroath parent calls for a defibrillator in every school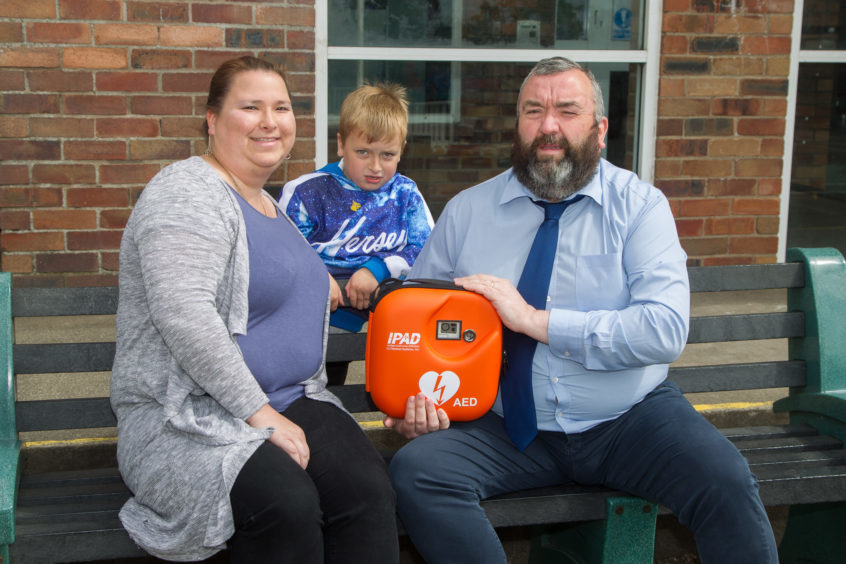 After seeing a defibrillator installed at Hayshead primary school in Arbroath, an Angus parent whose child has a heart condition said she wants units placed in every school in Scotland.
The defibrillator, also known as an AED, was purchased after a fundraising drive.
A defibrillatorHeather Osborne, originally from California, and whose seven-year-old son attends the school, said: "My son, Alex, has a congenital heart defect called third degree heart block, which essentially means the chambers in his heart beat out of sync, so his heart rate is incredibly slow for a child of seven.
"My mother sits on the Parent Teacher Association in the state of California, and there was recently an initiative to push for AEDs to go in all schools in the state.
"I thought that it would be beneficial for Hayshead to have the same kind of AED in the school.
"It is not here for Alex, as he most likely will never need it as he is monitored by Ninewells Hospital, so it is in place for anyone who might fall on an unexpected cardiac condition.
"I feel very strongly that there should be an AED in every school, because a lot of cardiac conditions go undiagnosed in children.
"I brought it up through my son's cardiac liaison nurse, and she said it would be a brilliant idea."
Ms Osborne revealed her son's condition was picked up through a scan, and wants to encourage other parents to be vigilant.
She said: "It's important to check heart health, as I have friends whose children have the same condition as Alex, and it wasn't diagnosed until a check at one-year-old, so these things are really important to be aware of."
Ms Osborne said she would be seeking a meeting with her local MSP to highlight the campaign, and ask for it to be raised at Holyrood.