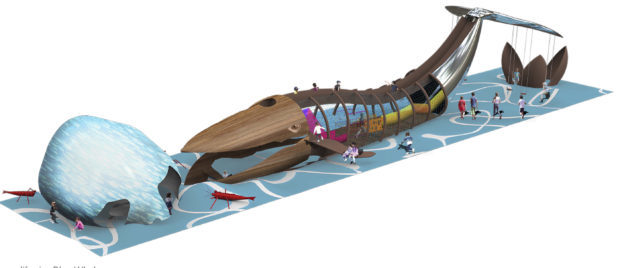 A play park featuring a life-sized interactive whale is to become the latest addition to Dundee's £1 billion waterfront development.
It will fill the last space in Slessor Gardens and as well as providing recreation, is designed  to be an 'attractive piece of design'.
Chosen in homage to the city's whaling history, the structure will incorporate digital technology with an "initial concept" drawing released by the council showing what it may look like.
Children will able to walk through the "insides" of the whale and interact with projections of the animal's prey.
It will sit in the mostly empty south-east corner of the gardens. Part of this area is currently taken up by V&A architect Kengo Kuma's wooden pavilion, which will be moved elsewhere.
Dundee City Council leader John Alexander said work on the park will start soon.
He said: "This new addition will create a fun, artistic, design-led element into the corner of Slessor Gardens that is currently not utilised.
"It plays on Dundee's past but importantly, also gives a nod to the future with the inclusion of digital technology and design.
"It's everything that Dundee is – fun, historic, modern, vibrant and a wee bit different.
"Work on site will start very soon and I hope that the public will take our new animal friends to their heart, just like the penguins."