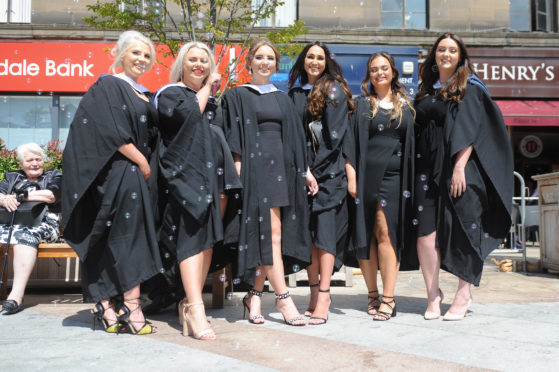 Graduates who find jobs in Dundee can look forward to earning more than their peers in Glasgow or Edinburgh.
New research by jobs website Adzuna has found the thousands of new graduates from Dundee, Abertay and St Andrews universities can expect to get their bank balances off to a flying start if they find jobs in the City of Discovery.
According to the company, Dundee graduates command the third highest starting salaries in Scotland, with employees earning an average of £26,248.
Only graduates in North and South Lanarkshire pick up higher average starting salaries, earning £28,256 and £26,248 respectively.
Surprisingly, the average starting salaries for Edinburgh and Glasgow are just £25,017 and £23,849.
In general, graduates in Scotland earn £1,189 more than the UK national average of £23,038 but the study found there are fewer jobs available than in other parts of the country.
While it may be expected that those who find work would earn more, Azuna found the average graduate salary in London is just £300 more than the UK.
Azuna said that the capital might have the highest number of jobs available, but the relatively low starting salaries and high cost of living impacted on people's quality of life.
The company's research also found that the IT industry offers the best opportunities for graduates, with average starting salaries around £3,000 more than the UK average.
Teaching offers the largest number of job opportunities but also the lowest average graduate pay.
Andrew Hunter, co-founder of Adzuna, said: "Graduates should look beyond London and embrace a new appetite for adventure when it comes to work location.
"Our research shows those graduates who are willing to be flexible and mobile stand the best chance of securing a well-paying grad role.
"That said, the traditional migration from north to south needs to be broadened.
"Flexibility is emerging as a key requirement and it's important that graduates look carefully to see where the most opportunity is for their selected industry and where they can get the best bang for their buck when it comes to living expenses.
"Finding the perfect mix will do their well-being a world of good and help them bounce up the career ladder."
Thousands of students graduated from Dundee and Abertay Universities over the past two weeks at ceremonies held in the Caird Hall.
Abertay University principal Professor Nigel Seaton said: "Abertay has a long history of offering degree courses that not only provide a first class education but prepare our students for the world of work.
"More than 95% of our undergraduate students go into employment or further education after graduation, with many choosing to both live and work in Dundee long after they leave Abertay.
"This strong graduate pipeline is one of the main reasons that the city has, in recent years, been able to reinvent itself as a digital, creative and computer games hub, offering excellent career opportunities."