One of the most exciting hotel renovation projects undertaken in Scotland for years is set to open tomorrow in Dundee.
The run-down former Baxter Brothers jute mill on Constable Street has been transformed into the £23 million Hotel Indigo.
The development of the mill, which lay unused for around 45 years, has been regarded as one of the most ambitious for some time.
The building's heritage is incorporated throughout, attracting attention from across the country. Exposed brick is retained in the ceilings while jute has been used to make the throws that will cover the beds.
Other new and traditional local industries have also been alluded to in the decor. One of the rooms features cheat codes for Grand Theft Auto while artwork inspired by Arbroath drinks firm Bon Accord also hangs on the wall.
It will boast 102 guest rooms.
A restaurant, open to the public as well as guests, has been named Daisy Tasker, after a revered former staff member who organised social events for the workers.
Hotel manager William Inglis, said every decision has been carefully thought through to "restore and celebrate" the history of the building and its place in Dundee heritage.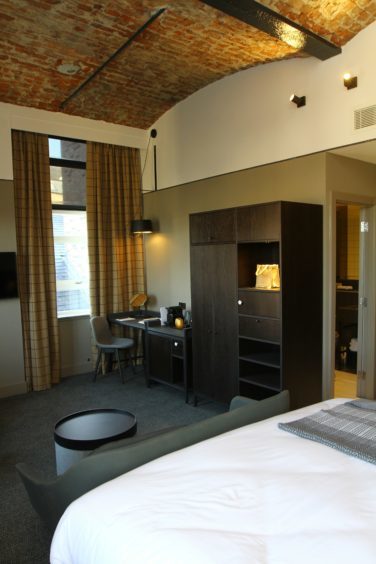 He said: "We are excited to be able to take this iconic building into the next generation of Dundee history.
"The transformation from an abandoned mill into a luxury property has been the result of years of hard work from hundreds of people."
The other half of the mill is being transformed into 85 serviced apartments, named the Staybridge Suites, set to open later this year.
jkeith@thecourier.co.uk