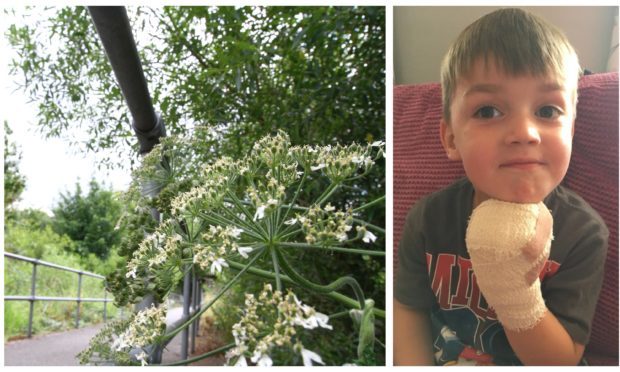 A four-year-old boy had to be rushed to A&E after touching poisonous hogweed growing near his Tayside home.
Blair MacKenzie's hand blistered badly following the incident near the brae at Greystane Terrace in Invergowrie on Tuesday.
The youngster has been told he will have to wear a bandage for at least 48 hours.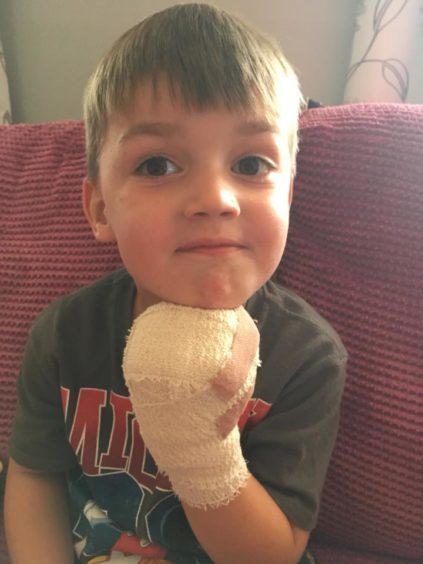 Carse of Gowrie SNP councillor Beth Pover has been in touch with Perth and Kinross council officers, urging them to find a solution to the problem with hogweed in the area, which has been going on for a number of years.
In 2016, an eight-year-old Invergowrie girl was badly hurt by the plant, which can also be found growing near Main Street, close to public footpaths.
Blair's mum, Hayley MacKenzie, said: "We were just walking along the brae and I met a neighbour, so we started chatting.
"Blair went over to the hogweed and I told him not to touch it but, being a four-year-old, he touched it.
"He only brushed against it but it was enough to make a blister on his hand.
"I got him home and called NHS 24, who advised me to take him to A&E.
"The staff there said that hogweed was really dangerous and bandaged up Blair's hand straight away."
Blair will have to keep his bandage on for 48 hours, due to the dangerous effect of hogweed toxins reacting with sunlight.
He is expected to make a full recovery, but his mum said he was frustrated at being unable to ride his bike.
It is believed the land where the hogweed grows is in privately hands, but the owner has so far not been located.
SNP councillor Ms Pover said: "Something as dangerous as this plant needs to be eradicated, regardless of who the land belongs to.
"I have spoken to the council and am awaiting their reply.
"I will be doing everything in my power to get this issue sorted once and for all.
"It's unacceptable that children are having to go to A&E because of this."