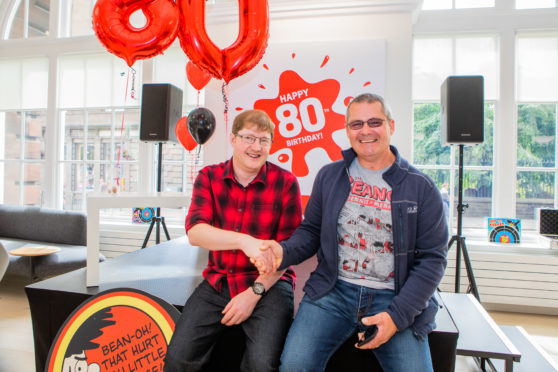 A special birthday bash was held for The Beano in Dundee on Monday night, celebrating 80 years of a worldwide favourite.
The DC Thomson Meadowside building played host to a special celebration, with a staff party being held in the morning and another in the evening at the home of everyone's favourite comic.
Beano superfan Ian Atkinson, 49, travelled from the Berkshire village of Upper Buckleburry (the home of St Andrews alumni and future queen Catherine, Duchess of Cambridge) to Dundee on Friday, specifically to celebrate the anniversary in comics' home.
Mr Atkinson has every edition of the annual and is 28 editions short of having a complete set of comics.
Along with his wife Edwina, Ian enjoyed a tour of the McManus Galleries – temporarily renamed the McMenace in anticipation of The Beano bash – where he viewed original artworks and met with fellow enthusiasts.
"I had told my wife several months ago I had planned a romantic break to Scotland," he said.
"When I told her what dates we were going, well she figured it out straight away why we were really coming up.
"I have loved The Beano for near-enough my entire life. Edwina calls it an obsession and I guess she is right.
"I have too many pieces of Beano memorabilia to mention, including guitars, all of the annuals, every summer special and I am 28 editions short from having all 3,945 copies.
"My dog is called Gnasher, just like Dennis' and he is just as badly behaved."
He continued: "It was extremely important to be in Dundee for the Beano's 80th birthday.
"This is the first time I've visited and it is really a lovely city, we will definitely be back in 10 years time for the 90th celebration."
The Beano first hit newsstands in 1938 and at its peak sold more than 2 million copies a week in the 1950s.
The latest edition was guest edited by comedian David Walliams.
In 2013 The Beano was awarded a Guinness World Record for being the longest running print comic.
A "special" exhibition is currently in place at the McMenace – editor's note, The McManus – featuring the Beano art work of Horace Panter, bass player in ska-band The Specials.
---
How to tell if you've really got number one
With The Beano turning 80, people the world over a clamouring to find original first editions of their favourite comic.
Original copies are very rare and extremely collectable and understandably people who believe they have one become very excited at what its value could be.
One collector sold his original for a staggering £17,000 in 2016.
Unfortunately for most of those holding a coveted comic, the truth is it is likely a reprint.
Several "facsimile copies" have been made since 1938, including a 1998 60th anniversary edition from the Sunday Post and a 2003 reprint – the pages of which were artificially aged to make it look more authentic.
There are four key things to look for if you think you have an original:
Number of pages: The original comics contained 28 pages. Some reprints have 24 pages as some content that doesn't meet modern editorial standards was removed.
Paper: The original was printed entirely on off-white newsprint. Reprints may try to reproduce the look but will likely contain brilliant white or glossy pages.
Binding: The original was glue bound. Reprints were stapled or string bound.
Edges: The original will likely have zig-zagged indentations on the top and bottom edges. Some collectors may have trimmed their copies and reprints will have sharp clean edges.
A more detailed description of what identifies an original can be found here.