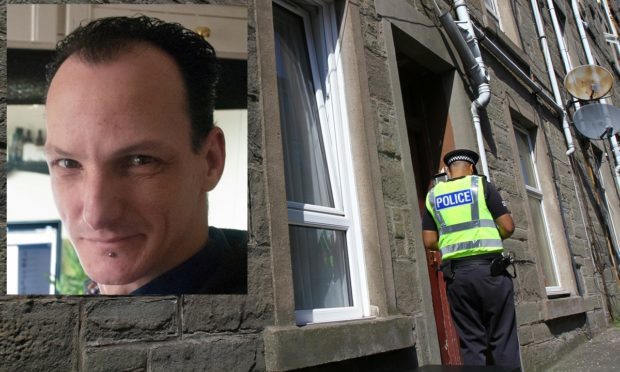 A drug addict who murdered a Dutch artist before boasting "I danced on his head" has been jailed for life.
John Styles, 21, has been told he will serve at least 15 years in prison for the murder of Jeroen Van Neijhof committed in May of this year.
It has emerged Styles had been released on bail just seven days earlier over another horrific knife robbery.
Styles, who was homeless at the time of the offence and had been begging outside the Co-Op on Albert Street, was on bail at the time for a separate robbery involving a knife.
He was sentenced after admitting his guilt before Lady Carmichael at the High Court in Edinburgh on Friday morning.
The court heard Styles and his victim had met outside the Stobswell supermarket the night before Mr Neijhof was found dead.
The pair had gone back to the victim's flat on Brown Constable Street, where they took a number of drugs including ketamine and MDMA.
At some point in the evening, things turned sour when Styles — a habitual drug user from the age of 14 — asked if Mr Neijhof had any heroin.
Enraged there was none in the flat, the court was told Styles then subjected Mr Neijhof to a brutal and sustained attack, where he suffered blunt force trauma to the head and 19 stab wounds — one of which was so deep it penetrated either side of Mr Neijhof's right arm.
Styles, still heavily under the influence of drugs, then left Mr Neijhof for dead and travelled to his former partner's flat.
Once there, he told Janette Melrose he had done something "bad" and had "danced all over his head".
Mr Neijhof was discovered on Friday May 25 by his manager from the job he worked at a nearby hotel.
Concerned for his wherabouts, the court was told, the manager had travelled to his home after he failed to turn up for his shift as a cleaner.
The manager peered through the letter box, where he could see the body of Mr Neijhof lying in the hallway.
Police were called and forced entry to the property shortly after 9.30am.
Mr Neijhof's face was so badly beaten, police forensics officers at the mortuary in Dundee were unable to identify him, the court was told.
A DNA sample was obtained from the Netherlands, which led to his identification.
Styles had been released on bail to await sentence over two separate weapons charges – one a city centre knife robbery on a female student, the other possession of an offensive weapon – just seven days before the killing.
A week after stabbing Mr Van Neijhof to death he was jailed for a total of 30 months over the charges.
Court papers revealed that Styles had only walked out of court the week before the attack because social work background reports on his co-accused were not ready.
Mark Stewart QC, in mitigation, said Styles could only offer his apology to Mr Neijhof's family for what he had done.
He said: "Mr Styles appreciates the reality of this matter. He makes no excuses for his act and acknowledges he will be subject to a life sentence.
"His background is uneventful, he left school at 14 and from there slipped into drug addiction.
"He was known to Mr Neijhof and had developed a friendship, on a superficial level, with him, where they shared taking drugs together.
"There is no real explanation why he did what he did.
"He has done the only thing now he can do, which is to admit what he did.
"He offers his full apology to Mr Neijhof's family."
Sentencing Styles, Lady Carmichael said his act was another appalling example of the harm drug addiction can cause.
She said: "You subjected your victim to an extreme and violent attack.
"You have two previous convictions, one for assault, which you were on bail for at the time of this offence.
"You committed this murder while on bail and your addiction has played a significant role in this.
"In relation to charge one, of murder, there is only one sentence I can serve, which is life."
Styles was sentenced to 15 years in prison, reduced from 18 in light of his guilty plea at the first opportunity, which will begin at the conclusion of his current 28-month sentence for the previous, unrelated robbery with a knife.