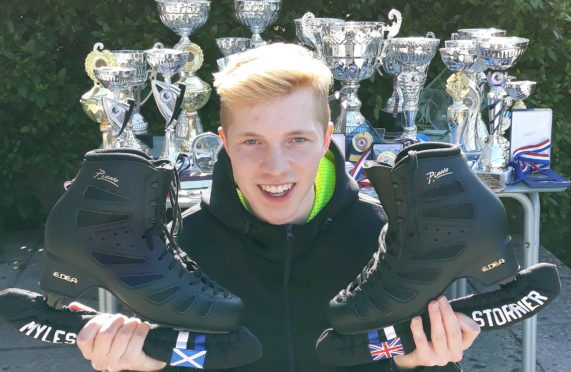 A Dundee figure skater who is among the top-ranked in the UK has been selected to tour Europe with the prestigious Disney On Ice show company.
Myles Storrier, 19, has been offered a role in the ensemble for Reach For The Stars, a performance on ice that combines various popular Disney stories.
The former Harris Academy and Menzieshill High School pupil, who trains at Dundee Ice Arena, said the selection was a "big surprise" and a "dream come true".
He explained: "I've always wanted to do Disney On Ice and applied by sending in a skating CV and short video last week.
"I thought the process would take months so it was a big surprise when they got back to me the next day to offer me a place.
"I still need to sort a lot of things out, such as finding out which countries I'll be going to.  It's all still in the early stages but I'm very excited.
"I'm in the top five in senior men's figure skating in Britain and I have enjoyed competing, but shows is really what I've always wanted to do.
"This would mark the end of my competitive career but I'm OK with that."
Myles began skating aged six, starting with learning to skate for ice hockey.
However, after around a year he realised that figure skating was where his passion lay.
Myles added: "I watched the Dundee Ice Skating Club's annual Christmas show one time and loved it.
"I loved the jumps and the performance element, so I switched from hockey.
"My coaches, Simon and Debi Briggs have been amazing and I'd like to thank them for all their help and input."