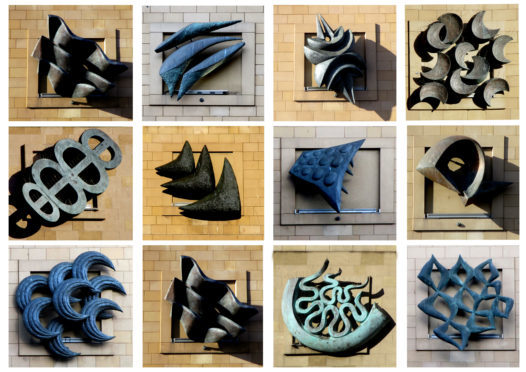 A Dundee group has taken on the "massive" undertaking of documenting every piece of public art in the city.
Menzieshill Photography Group are in the process of putting together a book, which will available at an exhibition of their latest endeavour in the Central Library later this month.
While some of the best known monuments in the city – such as the Desperate Dan sculpture on High Street and the Robert Burns statue outside McManus Galleries – are part of the project, it was the lesser-known pieces that fired the group's enthusiasm.
The book will feature 347 photographs of artwork found across Dundee. The actual number of pieces recorded is higher, however, as some of the pieces, such as the bronze sculptures on the Overgate exterior walls, are being listed collectively.
The group started the project by drawing a map of the city and dividing it into sections for each of its eight members to take on.
As the project grew, the group received support from bodies such as the Community Regeneration Fund, Scotland's Urban Past, Art UK, the National Lottery heritage fund, Dundee University and Dundee City Council.
The images will also be made available on the Scotland's Urban Past website.
Group member Avon Bartlett said: "I bet 90% of people have not even noticed some of the pieces in the city.
"It started as a small idea, but it just grew and grew and became a massive project for us. The biggest we've ever taken on.
"It was like a jumper, we started pulling one thread and more and more unravelled and lead to other things.
"We want to raise people's awareness of the rich environment in Dundee through public art and to make people look around them at the vast number of pieces there are in our streets and public spaces."
It is hoped that the group can follow-up the project with another book or exhibition that includes more detail on the backstory of each piece of art.
"We are needing time to collect information about some of the pieces," Avon added. "There is years worth of work here."
The exhibition will open in the Central Library on September 29 and run until October 20. Editions of the book should be available at the show.