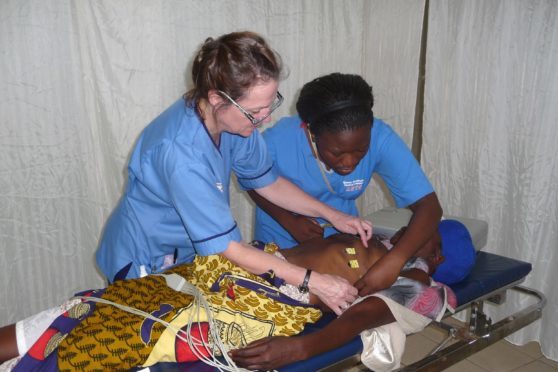 An NHS Tayside-led project to create a network of accident and emergency units in Malawi that could save tens of thousands of lives has been given more than £1 million funding.
The health board provided training to set up the African country's first emergency and trauma centre in Blantyre, Malawi's second city, in 2010.
It has been so successful it has been given funding to support the creation of three more trauma centres over the next five years.
The money is part of the Scottish Government's Malawi Development Programme, which will fund 11 projects focused on health, education, economic development and renewable energy.
The projects are to be delivered in partnership between Scottish-based organisations and their Malawian partners.
Over the next five years, the funding awarded to the project team in NHS Tayside will support the development of emergency and trauma care units at all central hospitals in Malawi, with the aim of delivering a national emergency trauma network.
Project lead Dr Barry Klaassen, NHS Tayside Emergency Medicine Consultant, said: "This funding will support our training and development of a fit-for-purpose emergency medicine service across Malawi over the next five years.
"This will greatly improve the delivery of emergency and trauma care to one of the least resourced nations in Africa.
"Our project is ambitious but this funding, combined with the experience that we have already gained and the support of the emergency clinicians and nurses from across Scotland, will make a significant and sustainable improvement to the delivery of emergency care in Malawi."
Medics from across Scotland and potentially, England, will travel to Malawi to help train staff in emergency medicine and how to run a network of A&E departments.
Dr Klaasen said: "They done't have A&E services as we, and most of the developed world, know it.
"Patients weren't prioritised. They just sat and waited for hours. People were literally dying in the waiting room.
"If we have a busy day in A&E at Ninewells we see maybe 150 to 180 people; they are dealing with 1500 to 1800 patients a day, sometimes as many as 3,000."
He added there are unique challenges to providing trauma care in Malawi.
"Emergency care is emergency care but road traffic collisions are rising exponentially in Malawi so they really need trauma care," he said.
"Sub-Saharan Africa has considerable rates of HIV infection. Of the adults admitted over 70% has HIV so there is a huge incidence of diseases related to HIV."
The NHS Tayside project team plans to fundraise locally and nationally to further support the development of emergency and trauma care units in Malawi.
Scottish Government International Development Minister Ben Macpherson said: "We are delighted to support this project as part of our £11 million Malawi Development Programme which is aimed at helping vulnerable communities.
"Setting up fit-for-purpose and sustainable emergency and trauma units at all Central Hospitals will help to improve people's health, potentially save lives and deliver long-term benefits in Malawi."