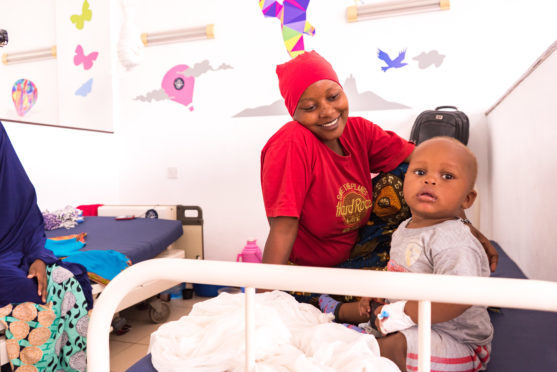 A charity seeking to create safe operating theatres for children throughout the developing world will set up its headquarters in Dundee.
Kids Operating Room (KidsOR) has so far assisted in 5,000 successful children's surgeries since it was set-up in January this year.
Part of DC Thomson's Kingsway East building will now be used as a warehouse to distribute high-quality donated surgical equipment to hospitals world-wide.
In many countries, the charity has helped create their first-ever operating rooms for children's surgery.
The charity was founded by Garreth Wood — the son of North-east businessman and philanthropist Sir Ian Wood — alongside his wife Nicola.
The pair are working in partnership with David Cunningham, the former chief executive of the Scottish children's hospital charity, The Archie Foundation
Mr Wood, who recently sold off his Scottish bar and restaurant empire, including Dundee's Boozy Cow, is to dedicate the next two decades of his life to the effort.
The 40-year-old philanthropist said: "More children aged between five and 14 die every year from surgically treatable conditions than from Malaria, HIV and TB combined.
"Our work has been proven to be highly effective and it is saving not just lives, but life-times for children across Africa.
What a privilege it was today, to witness the first operation in our @KidsOperating room in #lilongwe, Malawi. Their first EVER dedicated paediatric #operating room. I'm SO happy. ? @GICSurgery #charity #surgery #globalsurgery #philanthropy #savinglives pic.twitter.com/73JsYtVbte

— Garreth Wood (@GarrethWood) September 20, 2018
"As we now grow our work to also support hospitals in Asia and Latin America we are delighted to be able to locate the hub of those global operations in Dundee.
"Dundee's global outlook and highly skilled workforce make it a natural choice for the world-wide hub of our work".
The Kingsway East building was DC Thomson's headquarters before the majority of its staff moved to Meadowside in spring 2017.
The charity will take up residence in a disused part of the building.
A blend of new and high-quality donated equipment will be sorted, packed and shipped from the warehouse to hospitals across the world.
THE START of an #Operating Room journey, from our warehouse in #dundee to beyond!!! A huge thank you to @dct_media who have #donated our storage space to us.. Incredible partners for @KidsOperating and we are very grateful #charity #philanthropy @GICSurgery @DundeeCouncil pic.twitter.com/9JnKpdeiJ7

— Garreth Wood (@GarrethWood) September 29, 2018
Five jobs and dozens of volunteer opportunities will be created, many of which would include opportunities for overseas travel.
KidsOR has already built four fully operational paediatric surgeries in Malawi, Rwanda and Tanzania.
Some 15 more are planned before the end of the year in areas including Nigeria, Sierra Leone and Central America.
I had the great pleasure of visiting Burkina Faso earlier this week to see how we might support children's surgical services. I found an incredibly beautiful country with kind, friendly people. Loved it!@KidsOperating #globalsurgery pic.twitter.com/xUPvby0SDD

— David Cunningham (@DavidC_tweets) September 26, 2018