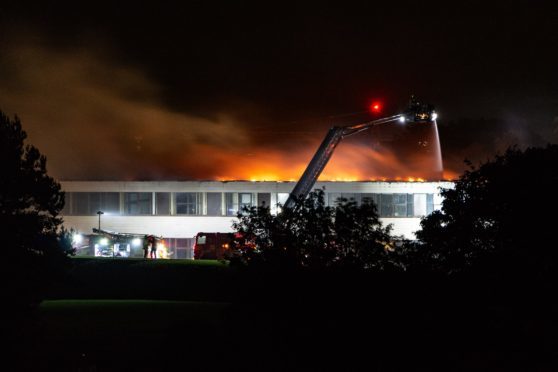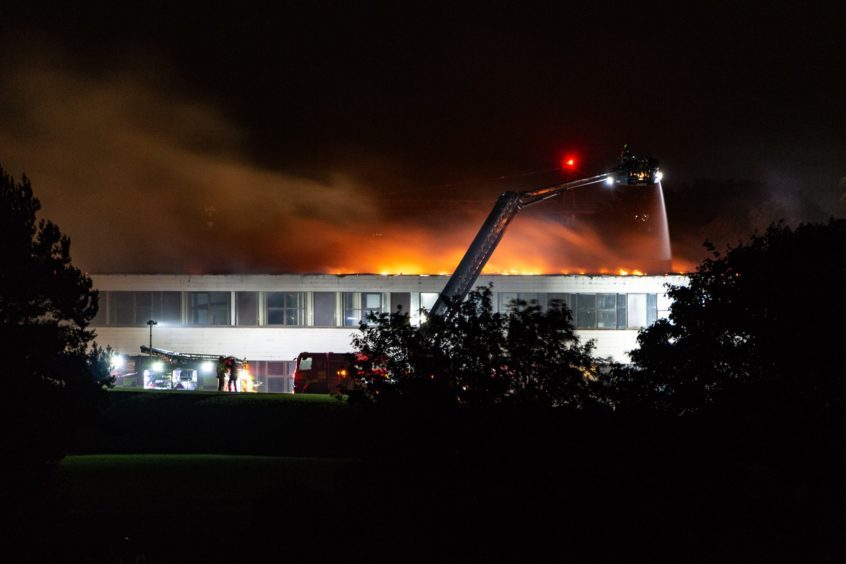 Education bosses were warned of a series of fire safety failings months before a blaze ripped through Dundee's Braeview Academy, it has emerged.
A fire risk assessment carried out at the school by property staff at Dundee City Council's city development department found that "reasonable" basic security measures against wilful fire raising had not been put in place.
The report, issued to education bosses in December 2017, found CCTV systems at the campus were "very old, very poor quality and require upgrading", despite the fact vandals had been seen "starting fires on several occasions".
The assessment also warned suitable measures had not been taken to minimise the hazard of ignition of combustible materials, and that fire exits did not "open in the direction of escape when necessary".
The Courier used freedom of information legislation to obtain the report from the council in the wake of the devastating fire, which has forced pupils from the school with no date set for their return.
North East councillor Brian Gordon insisted school staff and officers must be thanked for their hard work in getting children back to classes following the blaze but said safety conditions revealed in the assessment were "disturbing".
Mr Gordon described the report as "the kind of thing you see turned up during an inquiry into some kind of public disaster".
He said: "We have just got to see it as a blessing that the children were not in the school at the time of the fire as the consequence of not adhering to fire safety checks could have been disastrous for the whole community."
The assessment found that suitable fire procedures were not put in place, including for the evacuation of disabled people, and that weekly testing and servicing of fire alarms had not been carried out.
It stated that reasonable measures had not been taken to prevent electrical fires, exits were not easily opened, automatic fire detection was not provided and there was no remote transmission of alarm signals.
An inspection of the school found scores of appliances either untested or inappropriately placed, and combustible materials managed incorrectly. Assessors also identified issues in fire and safety instructions being given to staff.
A scheduled assessment of fire alarm systems in April was not carried out and successive reports over the past five years have found either "major defects" or systems at "serious risk of imminent failure".
Findings for four of these years rated systems in the lowest possible category for safety.
Dundee City Council was asked for comment but did not address the content of the report.
A spokesman said: "The council continues to work closely with the Scottish Fire and Rescue Service and Police Scotland in the ongoing investigation into September's fire at Braeview Academy."