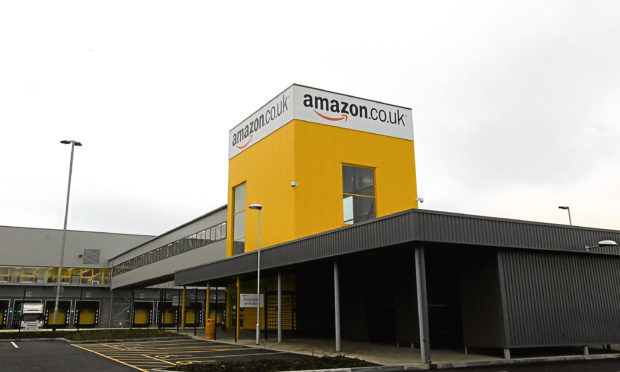 Workers at a Dundee Amazon depot were forced to endure temperatures of lower than 3C last winter, an investigation has uncovered.
The employees worked well below the Health and Safety Executive recommended ambient temperature of 13C during the 2016-17 cold snap, figures released under Freedom of Information legislation have shown.
Their complaint was among more than 440 serious health and safety incidents at Amazon warehouses which have been reported to the HSE since 2015/16.
Figures for the Dunfermline fulfilment centre have yet to be published.
Tim Roache, GMB general secretary, said the responses it received to its request suggested Amazon could face local authority enforcement action.
Mr Roache said: "Amazon is treating workers like robots, not humans.
"This is a multi-billion pound company owned by the richest man in the world.
"You have to ask yourself whether it's a deliberate decision to sacrifice safety to keep the bottom line growing, because I can't see why else you'd tolerate these conditions.
"Amazon won't even let GMB Union through their gates, despite the fact we have hundreds of members working inside. If Amazon is so confident they're doing right by their workforce, why are they worried about talking to us?
"We'd much prefer to be around the negotiating table, but failing that we'll continue campaign on every possible level to make sure Amazon workers are safe at work and treated with respect."
A spokesperson for Amazon said: "According to the UK government's Health and Safety Executive RIDDOR, Amazon has 43% fewer injuries on average than other transportation and warehousing companies in the UK.
"Amazon is a safe place to work and reports to the contrary are simply wrong. Amazon has created more than 25,000 good jobs with good pay and benefits across Britain and we are proud of the work they do on behalf of customers every day.
"Safety is one of the reasons LinkedIn recently ranked Amazon number 7 on its UK Top Companies list.
"We encourage you to compare our pay, benefits, and working conditions to others and come see for yourself on one of the public tours we offer every day at our centres across the UK."
In response to questioning as to why employees were left in such cold conditions, the spokesperson said: "We ensure all our sites are equipped with heating systems to meet HSE requirements."
A spokesperson for Dundee City Council said: "We investigated a small number of related complaints in late 2016 on the back of which Amazon responded with actions to resolve any issues. We have received no similar complaints about this site since."