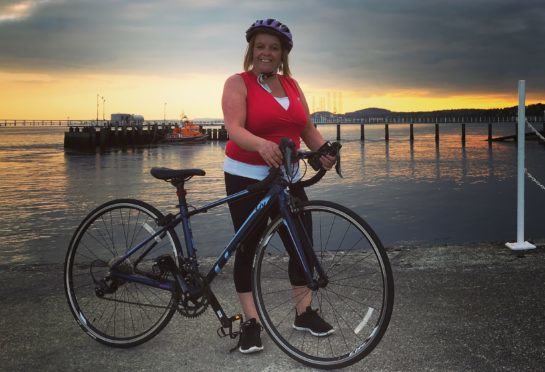 A dedicated nurse is celebrating after completing a gruelling cycle from London to Paris.
Jacqui Robertson pedalled her way from the English capital, through the Kent coast and across the Channel before making her way towards the Eiffel Tower and down the Champs' Elysee.
The 44-year-old only took up cycling relatively recently, as part of her recuperation from spinal surgery.
After catching the bike bug, she decided to put her new-found love of the sport together with her fundraising activities and signed up for the Women v Cancer challenge.
She spent the summer training for the event, which was made even more arduous by the unprecedented heat wave.
Along with her team, who dubbed themselves the Steadies, Jacqui had only three days to complete the 250-mile trek.
Together with two other women's charity groups, they succeeded in raising more than £750,000.
Jacqui herself raised just short of £2,200, but donations can still be made.
The group decided to donate money to three charities –  Breast Cancer Care, Jo's Cervical Cancer Trust and Ovarian Cancer Action.
Jacqui pedalled through a condition known as hot foot, a cycling "tennis elbow" known as Metatarsalgia. It happens when the nerves and joint tissues close to the ball of the foot are repeatedly squeezed and aggravated by the long metatarsal bones which run down through the feet to the toes. The result is a burning sensation which gets progressively more painful.
Despite her condition, she said cycling into Paris and seeing the Eiffel Tower fully illuminated on an October evening made it all worthwhile.
"I can't quite put into words what it was like seeing the tower lit up as it was when we arrived," she said.
"The weather was well for the most part and the scenery we cycled through, from England to Versailles and Paris, was just beautiful.
"Unfortunately I developed a pain in my foot into our journey and had worried I might not be able to complete the ride.
"The support team were so good, and my group of girls were unbelievably helpful, we all bonded so quickly which really helped.
"When we arrived in Paris, it was the evening and quite dark, so the whole of the Eiffel Tower was illuminated. Seeing that as we rode in made the whole thing so worthwhile."
Jacqui said the group was already planning its next charity endurance event.