Buskers in Dundee city centre face having to down their instruments after the council received complaints about the noise they were making.
Musicians performing in the City Square have effectively been told they can no longer entertain shoppers after having their amplifiers switched off.
George Harris, who performs in the busy shopping area at the foot of Reform Street, was told by a council official he had to switch off his amplifier on Friday morning, following a "change in the rules".
---
Video: George Harris busking in Dundee
---
The young singer plays an acoustic guitar said it would be pointless without his small amplifier, as the sound just "disappears".
Bagpipes would not be affected by the amplification ban, despite producing a similar noise level to a pneumatic drill.
He said: "I arrived at my usual spot in the city centre at about 9.45am on Friday morning when one of the red-coat city ambassadors approached and said the council had received a number of noise complaints.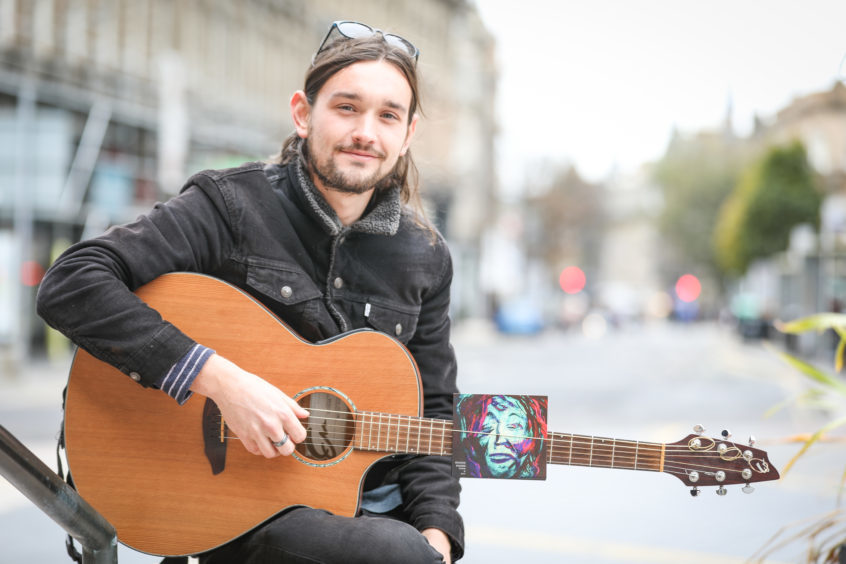 "I was then told the council had banned amplified music in the city centre — it wouldn't even be a case of applying for a busking licence or anything like that.
"When I asked why, the ambassador said they had complaints after buskers from Glasgow came through and played with amps.
"It's brought a complete halt to any performing we could do in the town. Me and my good friend Steph Fraser have been playing in the centre for a while, but this will all stop now.
"It's pointless playing without an amp — the sound is lost and people just completely ignore it."
When The Courier featured George's busking in the city centre earlier this year, over 12,000 people watched the performance, with many leaving comments praising his music.
Myra Fraser posted: "This guy is amazing", while Susan Spink described George's music as "fabulous".
Susan Spence added: "Wow. Amazing talent, so nice to hear lovely music in Dundee" — although she also pointed out the standard of busking is not always so high.
George said: "I have had absolutely no complaints about noise or performing during the day. The opposite in fact – people say they really enjoy it.
"This new rule has stopped the great atmosphere busking can create in the city centre."
Buskers have performed in Dundee city centre for years.
Notably, KT Tunstall started her successful music career performing in Dundee before she was signed, while The View named their chart-topping debut album, Hats Off to the Buskers, after the city's plethora of music men and women who played in the streets.
---
What the rules say
Dundee City Council has a busking guideline which does not explicitly ban using an amplifier.
The council's website states: "Dundee City Council recognises the vibrancy to a city centre that buskers and other street entertainers can bring but we do have a code of conduct that we ask (buskers) to adhere to."
The code of conduct states: "Noise (music, instrument or voice) should not be so
loud that it can be plainly heard at a distance of 50 metres.
"Please don't use amplifiers unless permission has been granted by the council."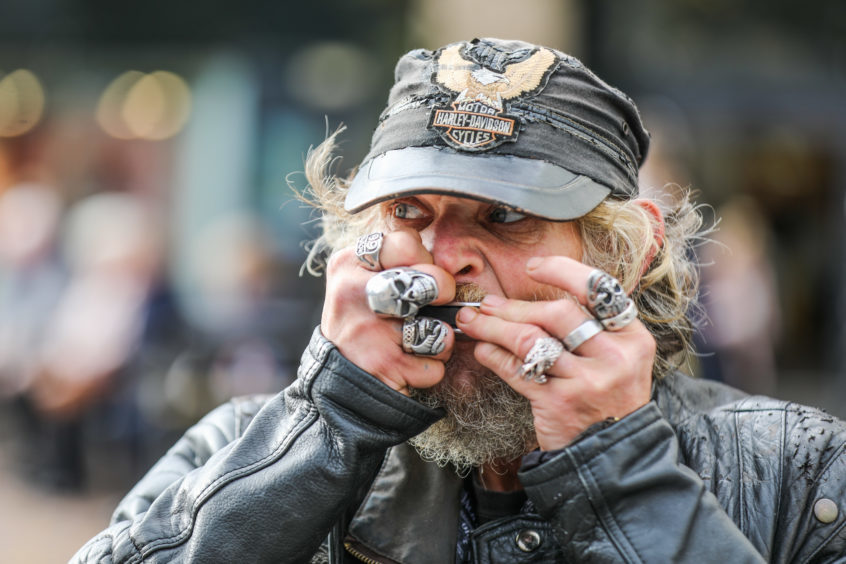 Police have the authority to seize instruments if deemed necessary and the council's code of conduct asks buskers to adhere to any instructions issued from their officers.
In Angus, no complaints regarding busking have been received by the council.
A spokesperson said: "While we are aware that a number of local authorities do issue guidance in relation to buskers, we have not received any complaints or concerns with regard to buskers and accordingly have not issued any guidance at this time."
A code of conduct exists in Fife, with the city of Dunfermline area committee agreeing buskers using sound amps will only be able to play in the area around the Glen Gates.
Convener of the committee, Councillor Helen Law, said: "We need to strike a balance and I think by taking this approach we're doing that.
"In general we welcome street performers, however, we must make sure that local professionals are able to go about their daily business with the minimum of interruption too.
"We've developed a pocket sized 'voluntary code of conduct' which Dunfermline Delivers and our town centre police team will give to all street performers.
"We'll monitor the impact of this and work with buskers to ensure Dunfermline continues to benefit from the positive practice of street entertainment for the benefit of all."
Dundee City Council was asked if a new ban had been imposed but only referred The Courier back to the guidance.
---
The word on the street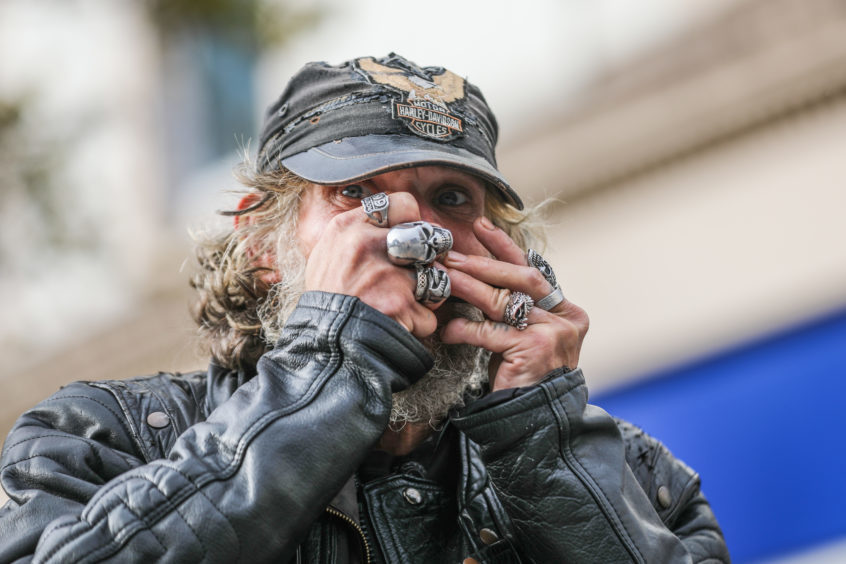 "Fast" Eddie Lafferty, a busking harmonica player, said: "I only use an amp sometimes,  I don't think it will affect me too much. It's all about the music anyway and sometimes an amp takes that away."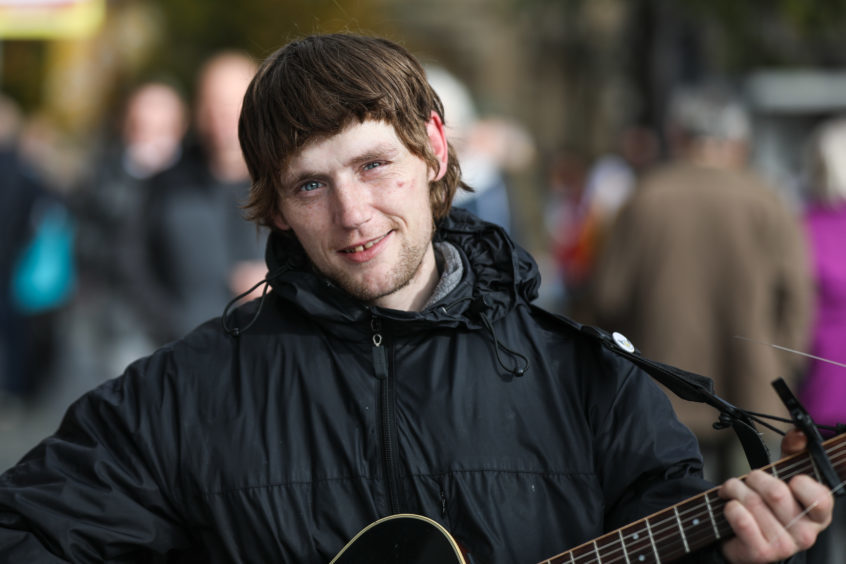 Kevin Hughes, a guitarist and singer, said: "I don't use an amp. I think the ones that do are sometimes too loud.
"You are only allowed on the corner under Boots for about an hour. I've never been moved on by the council or the police, it's just me and my guitar though, no amps.
"I think it would be better if the volume was lower, then we would all be able to be heard."
Bill Wilson, retired, from Guardbridge, said: "Buskers can make the city centre seem a lot cheerier. They bring a bit of atmosphere."
Tony Chew, retired soldier, said: "I'm from Durham and we have buskers. I am visiting Dundee at the moment and I really like the atmosphere in the city centre. I've never had an issue with buskers making noise, personally.
"Some of the ones I've seen perform are really very good.
"Some people I guess don't like them, but I personally don't see it as a problem."