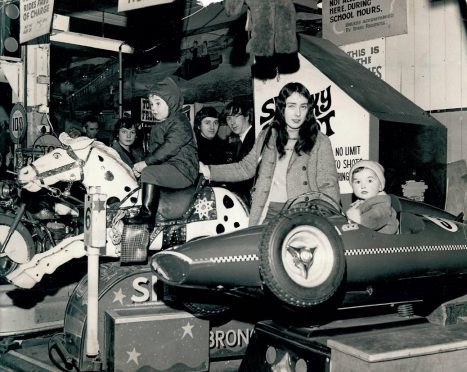 An online fundraiser has been launched to buy iconic Dundee children's ride, Champion the Wonder Horse.
The old attraction, one of the most popular rides in the City Arcade at the old Shore Terrace, was put up for sale online this week by its owner.
The aluminium horse, which sat in the arcade for more than 30 years before it closed in 1981,  is currently on loan to Dundee Museum of Transport.
The fundraiser, set up by anonymously by a regular visitor to the museum, says the horse "holds special memories" for many Dundonians and called on people to help raise £8250 to meet the asking price.
Sam Bannerman, manager of the museum, said she would "love to have" the horse permanently but said the cost was more than the charity could afford.
She said: "It's been here for a few years now and people love it.
"It's relevant to our collections but we wouldn't be in a position to buy it, unfortunately. We just don't have any funds for acquisitions this year.
"£8000 is a lot of money for us and we don't get any funding from the local authority.
"The money is a tall order for people to raise too but you never know. Dundonians are very generous."
Bill Adam, who had been raised in the Carolina House orphanage and grew up with "no other toys but Champion", bought the horse following the arcade's demise.
He made an arrangement to buy Champion should it ever be put up for sale in 1974, when rumours the arcade was going to close first began to circulate.
Although the horse is no longer functional, it was refurbished three years ago and the museum have now added the original music to it.
Ms Bannerman said she hoped to speak to the horse's owner soon.
She said: "I haven't spoken to him yet but I'll be contacting him this week to hopefully have a discussion about its future.
"There was a discussion previously that the loan might end but for whatever reason that didn't happen.
"He owns Champion and, of course, he can sell it if he chooses to do so.
"I think people would like it to stay on display though because there's always the chance someone could buy it and it's never seen again."
To donate, visit
https://www.gofundme.com/save-champion-the-wonder-horse?fbclid=IwAR29o5iwSAic14Win3XTVj6W8KYrThwB9Ewa8cvgDhFeMnE12lDB8umKLsM