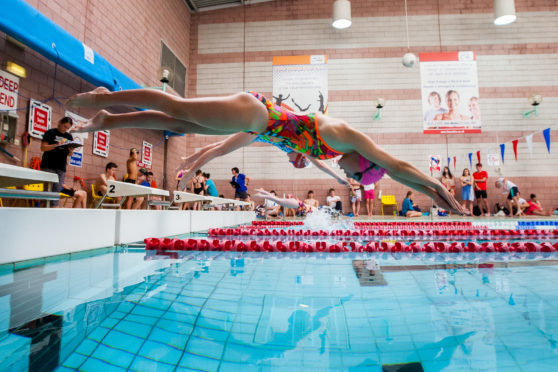 Primary pupils who can already swim could lose out on lessons if Dundee councillors approve a new plan to focus on "non-swimmers".
The children and families services committee will meet on October 29 to vote on a report recommending substantial changes to primary six tuition.
While recognising swimming as an "essential life skill", Dundee City Council has defended the proposed changes, saying the current method is ineffective.
Officials say 90-95% of children at that age can already swim and that some pupils are spending two hours out of the classroom travelling to and from lessons for as little as 20 minutes pool time.
Under the proposals, the system will be trialled in five primary schools – with primary six pupils at St Mary's, Downfield and Sidlaw View and with primary fives at St Francis and St Andrew's.
Following the trial, a final report and recommendations will be made in May next year.
The move follows months of debate on the issue. A claim by the council that schools could use cash from the Public Equity Fund to provide lessons was shot down by education minister John Swinney.
This was later described by council leader John Alexander as a "communication cock-up".
Labour councillor Michael Marra said: "The plan is clearly now for lessons to be targeted on those who cannot swim by taking them out of class away from their friends to receive lessons.
"This shift away from universal provision is one that the SNP will have to justify.
"The SNP administration have been caught red handed trying to push this significant policy change through without council oversight. The working group to discuss the policy was only formed on May 29, over a week after I revealed via the Courier that the decision to halt lessons had been made.
"I may personally support greater flexibility for headteachers in how provision is made, but I'm not sure that this report affords that opportunity."
John Anderson-McGuiness, chairman of Downfield Primary Parent Council, warned the proposal could prove disruptive.
He said: "If a percentage of each class leave for a while each week, does that become a period of dead time for the ones left in school or do they gain an educational advantage on their classmates who can't swim?"
Children and families convener Stewart Hunter said it would be down to teachers and parents to decide whether children qualified as non-swimmers.
The SNP councillor also said further support would be put in place for pupils who can already swim, in collaboration with Leisure and Culture Dundee.
Mr Hunter said: "The reality is we had a system that didn't work.
"If we try this and it doesn't work then we will go back to the drawing board, but it is important that we are saying to families that we will try something else."