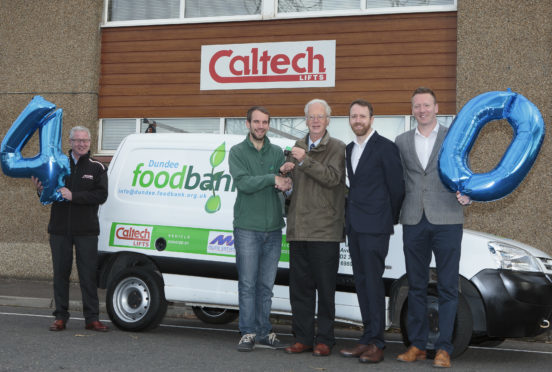 A Dundee business has celebrated its fortieth birthday by donating a generous gift of its own to the local foodbank.
Caltech Lifts, who were formed in the city in 1978, decided to donate one of their vehicles to Dundee Foodbank after hearing about the expense the charity was going through keeping their van running.
Their tranpsorter came to "a grinding halt" earlier this year after its gearbox broke and was going to cost the organisation more than £1,000 to fix.
Co-owner of Caltech, Andrew Renwick, initially offered the foodbank a loan of the van, before deciding to gift it to the charity as part of the companies 40th birthday celebrations.
He said: "When I saw the foodbank's Facebook post I was more than happy to help because I'd heard a lot about the great work they do.
"I'm delighted we've not only been able to solve their transport problem permanently but also get MM Auto Services to donate future servicing and MoTs, so thank you to Murdo for that great gesture.
"We see ourselves as rooted in the community we are based in and regularly help out where we can.
The vehicle is used to transport goods to the Foodbank's hub in the city's Dunsinane Avenue.
Dundee Foodbank warehouse co-ordinator, Michael Calder, said: "We're very grateful to Andrew and Caltech Lifts for the donation of this van and to Murdo for the future maintenance.
"Lending us a van since June saved us £5,250 and allowed us to continue our work as Scotland's busiest Trussell Trust foodbank – distributing 80 tonnes of food a year to people in desperate need."
Murdo Macintosh, owner of MM Auto Services said: "I'm delighted to be able to help keep Dundee Foodbank on the road.
"They do great work and deserved every support you can give."