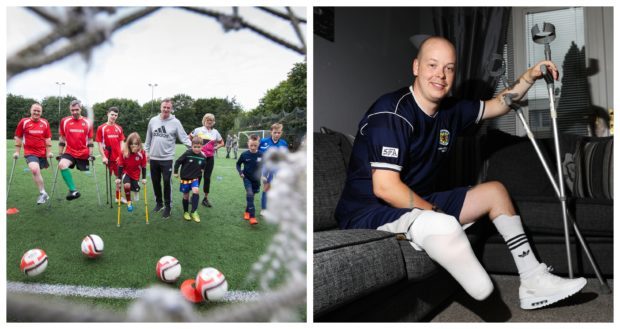 Northern Ireland manager and former Dundee United player Michael O'Neill hopes people will show their support for an amputee player's charity endeavours.
Robert Wilson will walk from the Tay Bridge to the Law and then back towards the Waterfront on October 27.
He hopes the trek will raise £500 for the Amputee Football Association Scotland (AFAS) via a My Donate page.
O'Neill became a patron of AFAS after being impressed by the dedication of amputee players.
Great to welcome back #NorthernIreland manager and AFAS Patron Michael O'Neill today as he put the players through their paces ahead of the inaugural #AmputeeFootball Scottish Cup. On 29th April Partick Thistle Amputees will take on Dundee Utd Amputees a…https://t.co/PToTaxgAtW

— Scotland Amputee FA (@ScotAmputeeFA) April 22, 2018
He said: "I was asked to get involved and I went along to see a couple of training sessions.
"I was quite taken aback by the level of skill and work.
"It is an immense effort and commitment by the players. They have to come from far and wide as there isn't many players in one area.
"The distances they travel to play is really impressive. They are always looking for new players to increase their numbers.
"But every time I go to see them there is always new faces so it's good to see that it's taking off. It is open to everybody."
Rob will be joined by fellow amputee footballers Leigh Gregory, Becca Sellar, Iain Matthew, Mick Lennon and charity founder Ashley Reid on the six-mile round trip.
O'Neill added: "To do that as an able-bodied person is difficult enough so I take my hat off to them.
"It would be great for people to get behind them. It would be really great if people toot their horns as they pass and things like that to show their support for the team.
"The players are a big part of the charity. It is a small organisation so it is great that the players are a part of the fundraising.
"I do see the efforts they put in to it and it's really impressive."
Big thanks to @ScottishFA_dis who have supported #amputeefootball in Scotland and enabled us to grow the game. Bring on the Italians… #playability #ourgameisthesame #legoffgameon pic.twitter.com/AxLZ6eBfjH

— Scotland Amputee FA (@ScotAmputeeFA) May 16, 2018
Robert started playing amputee football last summer and has already achieved something most people dream of – pulling on a jersey for their national side.
He was part of the Scotland side that travelled to Italy in May.
O' Neil added: "When you get to play for your country, it is possibly the best thing you will ever do in your career.
"And for the players to see how far other countries like Italy have come in amputee football is good as it shows what they can do too."
Robert was understandably ecstatic that a former Dundee United star supporting his challenge.
"It's fantastic," he said, "a European Championship qualifying manager.
"I remember his training session I went to in Glasgow, it was incredible.
"Being a United fan it's an amazing feeling to have someone like him, to have accomplished what he had, to talk up my walk."