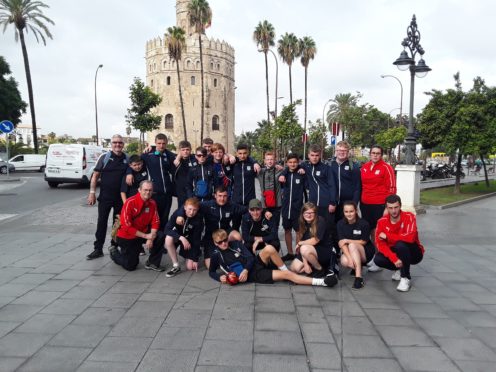 Dundee FC in the Community Trust took youths on a confidence-building trip to Spain last month.
The club's charitable arm took 17 youngsters, aged between 12 and 17 years old, to Cordoba for their Dees Without Frontiers initiative.
They reached out to organisations like Barnardos, Rockwell Learning Centre, migrant agencies, family wellbeing agencies and others for children that could benefit from an excursion.
The outing was organised with the Cordoba FC Foundation. Aside from playing football, it allowed the teens to build their confidence and give youths from a "disadvantaged" background to explore another culture.
Lewis Melee, trust manager, said: "We had 85 names mentioned to us and they came from all different backgrounds. Every one of the young people had experienced social exclusion of one way or another."
The 85 names were whittled down to about 25, with 17 of those able to make it to Spain.
The majority of the trip was funded by Erasmus, a EU student exchange programme.
Craig Murray, trustee for the charity, said: "It was amazing. They got so much out of it.
"We held 12 or 13 weekly sessions in the build up to the trip. We would teach them about Spanish culture and the language and other things so they could learn about it.
"Although there was an underlying theme of football, it was only a tiny part of it. Each day had a full schedule of different activities for them, such as going to Seville or to tourist destinations.
"One evening we held a European Song Contest. Some of them weren't interested at first, but once they got into it they had the best night of their lives.
"One of the youths is on the autistic spectrum and his communication wasn't very good but by the end we was speaking on a video about his trip.
"Some of the youngsters are United fans, but wore the Dundee FC colours with pride. Once they got away from the city and not being teased by friends for wearing the wrong colours they got into the spirit.
"We went away with 17 individuals and came back with a team.
"We would very much like to do it again, but it might be a bit too much to do every year.
"Cordoba have facilities in place and that's why we went there, but there is talk of them taking their kids over to Dundee next year."
Lewis added: "For me it was taking these individuals out of their comfort zone and exposing them to the wider world and different cultures.
"One of the main benefits being that it built up a lot of confidence."
Dundee FC Community Trust will wrap up their summer's work with a closing ceremony next week.