Dundee Civic Trust has hit back at critics who labelled the city's waterfront project tacky.
However, the heritage group has said even the prospect of a "kitsch Las Vegas" would be preferable to more developments like the controversial site six office block.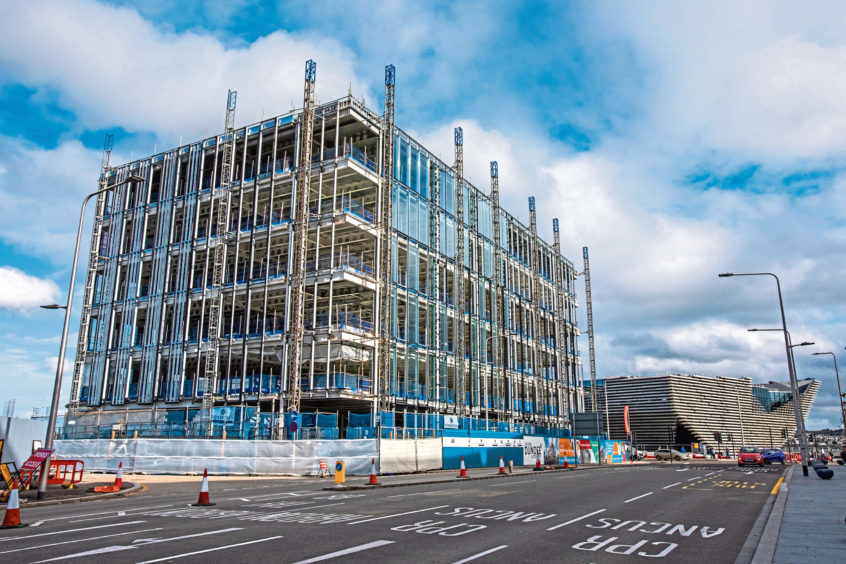 In its latest report, trust secretary Neale Elder warned the building could set a precedent for more "undistinguished steel-framed boxes" in the future.
He was responding to criticism from the BBC arts editor Will Gompertz, who said there was no need to "decorate" the V&A with "tacky add-ons" like site six.
Mr Neale said: "That would be decidedly less depressing than the prospect of site six becoming a precedent for a series of undistinguished steel-framed boxes resembling giant IT server cabinets."
Mr Elder noted that the opening of the V&A Dundee had been widely lauded, but said there was a danger the overall design of the area would lend itself to "cheap mediocrity".
Pretenders singer slams 'horrible carcass' office block opposite V&A Dundee
He added: "The prospect is real because the gridiron road layout, enclosing a series of oblong plots, potentially offers developers the easy way out.
"Creativity and architectural excellence can take a back seat in the absence of the design challenges a more fluid ground plan might have incurred.
"If Dundee allows it to happen, the grid layout will simply facilitate cheap mediocrity."
Dundee Civic Trust, set up in 1973, aims to preserve the urban heritage of the city while encouraging best standards of design and town planning.
Site six was included in the original plans for the waterfront regeneration, since before V&A Dundee became the city's star attraction.
"Oh dear. What a shame" — Praise for V&A, but scathing assessment of wider waterfront regeneration
The council's development convener Lynne Short has defended the development and has encouraged people to remain positive.
The SNP councillor said: "I'm still of the opinion that any development area is a work in progress and we have to be patient to understand how the full area will come together.
Rebirth of a city: What next for Dundee's £1 billion waterfront development? – part I
Rebirth of a city: What next for Dundee's £1 billion waterfront development? – part II
"This development is not a fly-by-night, but a generational sea change that isn't necessarily about the buildings but about the opportunity for the city.
"As we see people milling around and word on the street regarding blue chip potential tenants and the general buzz increases, let's look at the positives and potentials."
The development has attracted widespread criticism, perhaps most notably from Chrissie Hynde during her Slessor Gardens gig in September.
The Pretenders singer said the building should be torn down.