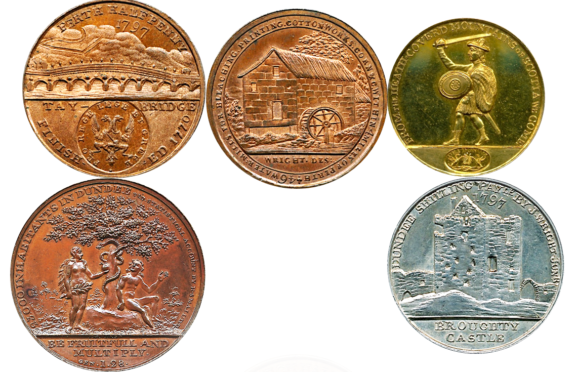 The father of one of Dundee's most famous daughters "deserves better" in the annals of city.
Local historian Roger Illsley made the claim of  the 250th anniversary of the birth of James Wright, one of the city's first "industrial designers".
His daughter, Frances, went on to become a powerhouse of social and feminist thinking, almost half a century before the suffragettes.
Mr Illsley believes it is time for Mr Wright's story to be embraced by his hometown.
He has discovered the man who fathered one of the city's most radical thinkers was himself an advocate of social justice and may even have been spied upon by the government of the time.
He said: "As an 18th century merchant and designer of coins, he is virtually unknown in his own city of Dundee.
"He does not appear at all in the more recent histories of the city and in those written closer to his own time any such reference is usually limited to two brief statements – one simply names him as the wealthy merchant father of Frances Wright the 19th century reformer, while the other merely notes him as the somewhat obscure designer of Dundee's provincial coins.
"He has a strong claim to be considered Dundee's first industrial designer.
---
---
"The national acclaim he gained for his numismatic writings and designs gives the city a prominent place in the fascinating world of 18th century commercial coins, often considered to be the first collecting craze of the industrial world.
"He designed coins for merchants in Dundee, Forfar, Perth and Edinburgh.
"He was involved in various enterprises in Dundee, primarily setting up a tannery in what is now known as the East Mill. It is probably Dundee's earliest industrial building still standing, pre-dating the more famous jute mills, although on the Buildings at Risk Register and in a very dilapidated state. It deserves to be rescued.
"He was a political radical, supporting many of the aims of the French Revolution, circulated copies of Thomas Paine's The Rights of Man and was perhaps a target of government spies in 1794."
Frances Wright, who was also an abolitionist whose views lead her to "much opprobrium" at home, now lends her name to a pre-school nursery for children with additional support needs on the Coldside Campus.